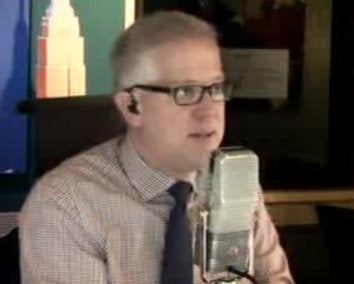 Has Glenn Beck turned on one of his favorite bands? It seemed that way on Monday morning, as Beck said that the performance by British band Muse was a call for revolution.
Beck and Muse have something of a history--in 2009, he called their album "The Resistance" an "amazing" work and said that they were "libertarian." In response, Muse called Beck "a bit of a crazy right winger." This seemingly did not dissuade Beck from enjoying their music, however, and, as he noted on his Monday radio show he even used Muse's song "Uprising" as a template for his own theme song.
Now, though, Beck had a new name for Muse: revolutionaries. The group performed "Uprising" at the Grammys, and the infamous picture of Prince Charles and Camilla--in which they are caught looking stunned as their car is surrounded by student protesters--was displayed during the song.
In Beck's words, the performance showed "Camilla and Prince Charles in the back of their Rolls-Royce where they're trying to beat them and kill them in the streets." This was, he said, "basically a call for revolution by this group." He stressed, though, that they came from a "degraded" continent: Europe.
You have to remember these are Europeans...they have had very few glimpses of real freedom," Beck said. "Even when England won the Second World War, they didn't go into freedom. That's where the Road to Serfdom came from."
LISTEN:
Watch Muse's performance (photo shows up at 3:51):
Related
Popular in the Community