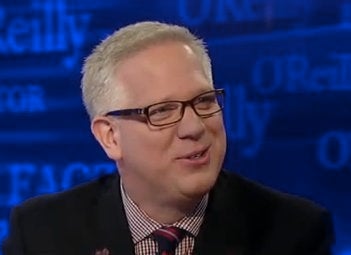 Glenn Beck laughed about the death of a whistleblower involved in the phone hacking scandal and asked listeners to "pray" that Fox News was not involved in the crisis.
On his Tuesday show, Beck joked about the death of Sean Hoare, who was the first journalist to go on the record about the phone-hacking crisis at the News of the World in a 2010 New York Times article. Hoare was found dead in his London home on Monday. Beck said he loved the story of the death.
"I'm not saying that foul play was involved, but it is suspicious that he's dead," Beck said, laughing. (On Tuesday, police categorically concluded that no third party was involved in Hoare's death.)
He then joked that Vladimir Putin was involved in the death, before turning to Fox News, which, like the News of the World, is owned by News Corp.
Beck said he was worried that the scandal would be used by opponents of Fox News to try and bring it down, but that, as far as he knew, there had never been a hint of a scandal at the network.
"Pray that that is so and that they are thwarted," Beck said. "...They will use this and it will shut down."
LISTEN:
Popular in the Community