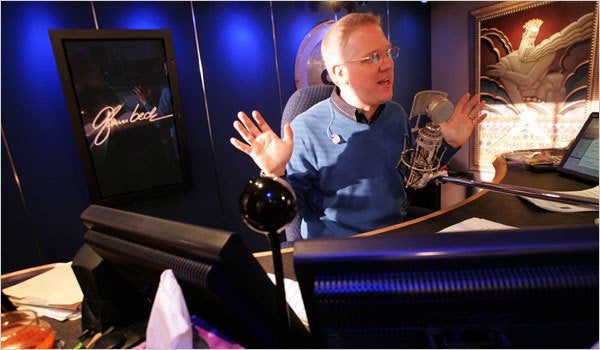 On his daily radio talk show, Glenn Beck portrays himself as an average guy, a recovering alcoholic and a comedian who regularly injects humor into his conservative politics.
This week he can add another description: very wealthy.
Premiere Radio Networks, a subsidiary of Clear Channel Communications, is expected to announce today that it is extending Mr. Beck's contract. Two sources with knowledge of the deal said it was valued at $50 million over five years, through a combination of salary and profit-sharing from syndication.
In signing the deal, Mr. Beck, 43, becomes the newest -- and youngest -- entrant into an exclusive club of highly compensated radio stars. The new contract would make Mr. Beck the third highest-paid talk radio host, surpassed only by Rush Limbaugh, the most popular terrestrial talker for two decades and whose show is also syndicated by Premiere, and Sean Hannity, whose Citadel Broadcasting show is routinely ranked second.
The salaries apparently mirror Arbitron's radio audience measurements, which show that Mr. Beck is the third most popular radio host in the advertiser-friendly 25- to 54-year-old demographic.
Popular in the Community