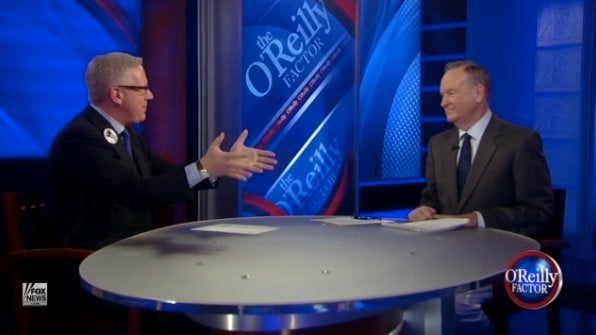 Glenn Beck addressed the controversy surrounding his comments about Meghan McCain during his weekly appearance on Bill O'Reilly's show on Friday--but did not apologize for making them.
Beck landed in hot water with the McCains after he pretended to vomit for several minutes on his radio show while watching Meghan McCain's skin cancer awareness ad, where she appears to be naked. His routine prompted a volley of angry responses from Meghan, Cindy and John McCain, but Beck had not responded to the attacks until Friday.
Bill O'Reilly sided with Beck's detractors in this case. "If I was Cindy McCain I'd slap the hell out of you," he told Beck.
Beck said that she was sticking up for her daughter, and that she was "right" to do so. "I would do the same thing," he said. He then joked that he was "helping bring attention" to skin cancer awareness by telling Meghan McCain to "cover up."
O'Reilly said he was baffled that Beck had done such a "dopey" thing, because "you're genuinely a nice guy."
Beck admitted that the routine was a "juvenile bit," but he refused to go any further. "You know what, Meghan McCain? Please," he said. "I've had enough of Meghan McCain as much as she's had enough of me."
WATCH:
Calling all HuffPost superfans!
Sign up for membership to become a founding member and help shape HuffPost's next chapter