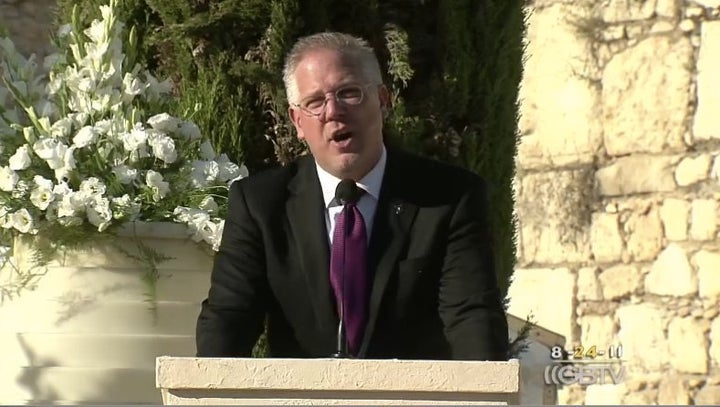 JERUSALEM -- Former Fox TV personality Glenn Beck capped a contentious visit to Israel Wednesday with a strong call of support for the Jewish state in a rally alongside a hotly disputed holy site in Jerusalem's Old City.
The conservative commentator has won fans among Israel's far-right with his unabashedly pro-Israel, anti-Muslim rhetoric, and 2,000 people turned out to hear him speak next to the compound known to Jews as the Temple Mount and to Muslims as the Noble Sanctuary.
"What happens here does not just affect Israel. From this moment forth, it affects the future of the entire globe," he said, to a standing ovation. "The only message that I have for Israel and the Israelis is this: My friends, do not lose hope, you must not lose confidence in yourself. You must have courage. You must draw courage from the knowledge that you were led to this land by God."
Outside the Old City walls, a small group of protesters held banners saying "Glenn Beck, go home."
Beck left Fox News Channel in June after a ratings dip to launch a daily two-hour show for paying customers on his own Internet network. He is also a best-selling author and hosts a wildly popular radio show. His departure from Fox was hastened when advertisers began boycotting him after he said President Barack Obama had a "deep-seated hatred for white people."
Beck, who is Mormon, also got into trouble for describing George Soros, the liberal billionaire financier who survived the Holocaust, as a "Jewish boy helping send the Jews to the death camps."
His speech Wednesday marked the final leg of his "Restoring Courage" tour of the Holy Land.
Israeli religious figures and left-wing politicians came together in an unusual alliance to appeal to Israelis to shun his embrace. Religious Jews worried that he came to spread the Christian gospel, while dovish Israelis rejected Beck's support for West Bank Jewish settlements and his criticism of peace efforts.
"It is embarrassing that the government of Israel and the city of Jerusalem is identifying with a character like this and giving him a warm embrace," said Etai Mizrav, an activist from the Peace Now organization. "He expresses racist and anti-Semitic sentiments in the guise of affection for Israel."
Peace Now launched a Facebook page entitled "Glenn Beck Stay Home" that has attracted more than 1,200 followers and released a video that included comments from Beck in which he compared the victims of a recent shooting attack in Norway to Hitler Youth and suggested that Israelis protesting the country's high cost of living were linked to Islamist groups.
Watch Beck's announcement about the next phase of his global tour:
Watch an excerpt from Beck's speech:
Related
Popular in the Community