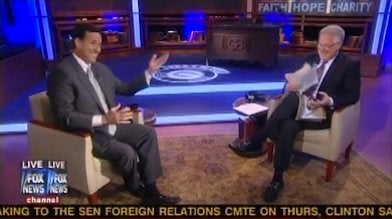 Fox News host Glenn Beck responded with an awkward suggestion when Republican presidential candidate Rick Santorum confirmed on his program that he's signed his name to the "Cut, Cap and Balance" pledge, which entails opposing any debt limit increase without significant spending cuts, enforceable spending caps and congressional approval of a balanced budget amendment.
"I could kiss you in the mouth," said Beck to Santorum on Thursday. A few moments later after the pair laughed, he added, "I was just kidding, I don't want to kiss you in the mouth."
"Conservatives in the House are absolutely right," the presidential hopeful and former U.S. senator wrote in a Facebook post at the time. "We cannot continue to write blank checks that our nation cannot cash. Before we again raise our nation's debt ceiling, we must insure that the major components of our exploding debt are under control, namely our entitlement programs."
The Hill reports that Republican presidential contenders former Minnesota governor Tim Pawlenty, U.S. Rep. Ron Paul (R-Texas) and former Godfather's Pizza CEO Herman Cain have all added their names to the "Cut, Cap and Balance" pledge, which is backed by conservative favorite Sen. Jim DeMint (R-S.C.).
Via Mediaite comes video of the exchange between Beck and Santorum.
The Huffington Post wants to know about the campaign ads, town halls, robocalls, mailings and other election news happening where you live. Email us your tips, videos and photos at offthebus@huffingtonpost.com.
Popular in the Community