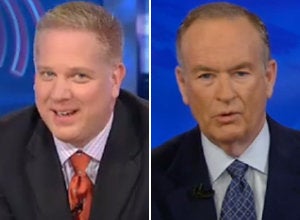 Glenn Beck is ruffling some feathers at Fox News Channel.
Insiders tell the Huffington Post that Beck's vault to the #2 spot in a poll on TV personalities has rankled Bill O'Reilly.
"Beck catapulting on the Harris poll has caused some angst amongst O'Reilly's camp," an insider said.
Perhaps most distressing for O'Reilly -- the network's undisputed star since its inception -- is the fact that Beck placed #1 among adults who self-identified as Republicans, independents, and conservatives.
O'Reilly was also reported to have had a "hissyfit" when Sean Hannity's interview of Palin aired before his.
Meanwhile, on the production level Beck's camp is said to have forced out his show's executive producer, Gresham Striegel, in favor of a producer from his own camp -- a move that has not been well received among network staff. Striegel was described as a "loyal and well-liked" Fox News veteran, having worked at the network for 13 years.
TVNewser reports that longtime Beck producer Tiffany Siegel has been installed as the new EP for his 5PM Fox News show.
Update: A reader points to Beck and O'Reilly's joint-tour as evidence that the pair have a strong relationship. The two have embarked on a Bold Fresh Tour, which stopped in O'Reilly's Long Island hometown of Westbury, New York over the weekend. O'Reilly even showed video of the tour on Monday's show — which taped after the poll was released.
REAL LIFE. REAL NEWS. REAL VOICES.
Help us tell more of the stories that matter from voices that too often remain unheard.