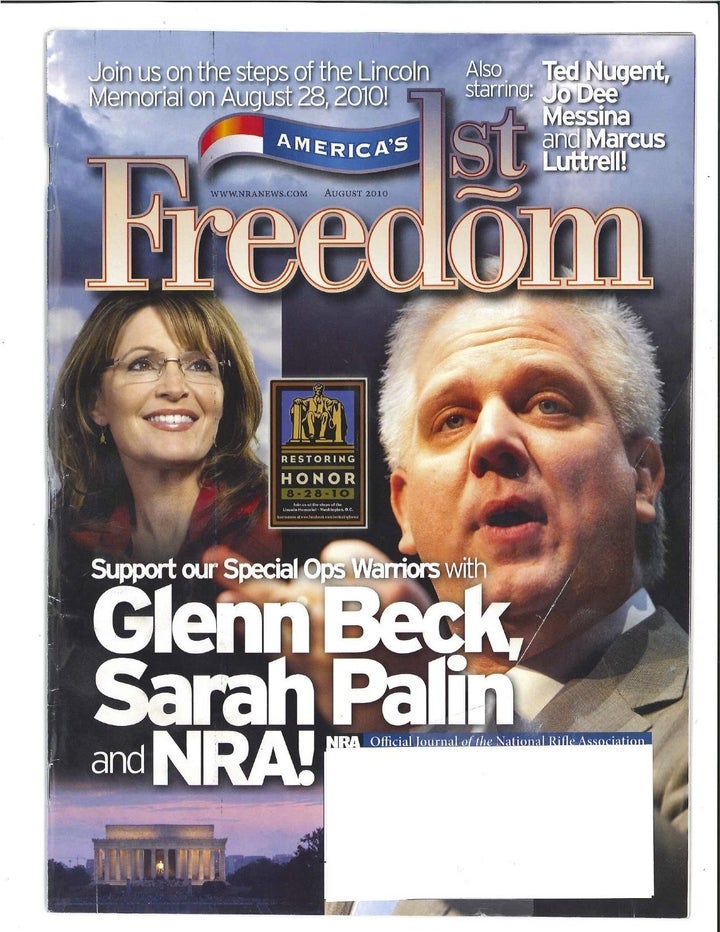 Although Glenn Beck has told attendees that his "Restoring Honor" rally will be a "nonpolitical rally," it will feature speeches by Sarah Palin and Ted Nugent and is partially sponsored by the National Rifle Association.
This is the same Sarah Palin, who has purposely stoked fears and resentment among gun-owners by wrongly accusing President Obama of wanting to ban guns; who disregards the 70 percent of Americans who want restrictions on semi-automatic assault weapons; and rejects the medical community's assertion that gun violence in America is a national health problem.

This is the same Wayne LaPierre, who insists that "...it's the guys with the guns make the rules." Not Jefferson's 'We, the people,' the American voters, or their representatives. No, "the guys with the guns" -- a statement that bears eerie similarity to the one John Wilkes Booth authored in a letter on April 14, 1865, the morning before he assassinated Lincoln, that "Might makes right."

...Most jarring is the sad irony of all of these people at the podium, with their supporters spread across our National Mall, celebrating, in part, their worship of guns, while invoking, quite blatantly, the legacies of two great Americans whose magnificent lives were cruelly cut short by bullets.
August 28 marks the 47th anniversary of Martin Luther King's famous "I Have a Dream Speech," which was delivered at the foot of the Lincoln Memorial. Initially, Beck said that the rally would be an effort to "pick up Martin Luther King's dream that has been distorted." However, he later backtracked on the air, saying "It was not my intention to select 8-28 because of the Martin Luther King tie. It is the day he made that speech. I had no idea until I announced it and I walked off stage." (Glenn Beck has compared himself to King in the past.) He plans to award "badges of merit" to people who have lived their lives "in accordance with just universal principles."
The rally will also feature , Marcus Luttrell, and David Barton.
UPDATE: Gary Sinise's spokesperson tells us he will not be in attendance.
"He declined taking part quite a while ago so we are not sure why he was ever announced as attending," said spokesperson Staci Wolfe.
Here is the ad for Glenn Beck's 8/28 "Restoring Honor" rally:
Popular in the Community