True story: not long ago I was tasked with determining whether or not Fox host Glenn Beck had a Twitter account. It was not easy to determine! Beck made no mention of Twitter on his website and I saw no mention of an official Twitter account in the strange newsletters he sends me everyday (note to Media Monitors: I ALREADY GET THEM, so, thanks, but I do not need them forwarded to me, a million times a day). There were two Twitter accounts that purported to be official Beck Twitters, but I eventually confirmed both were fake. I just about got on the phone to Irena Briganti at Fox about it but stopped myself when I realized that it was Friday and I supposed to at least try to have a life, and surely I needed a phone conversation with Briganti about as badly as I needed a needle in the eye, so I let it pass.
Now, however, Beck does have an official Twitter account, for real this time, and it is already amazing, as these excerpted Tweets demonstrate: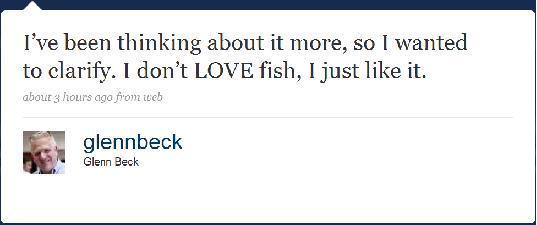 Anyway, Beck wants everyone to know: "just got furniture for my new office. i hate it already." Any minute now, he will probably ask his desk set for a "damn apology."