NEW YORK -– Pierre Omidyar, the billionaire eBay founder backing an ambitious new online venture with journalist Glenn Greenwald, announced Thursday that his First Look Media will publish its inaugural digital magazine early next week.
In a post on the company's website, Omidyar said the initial focus for the digital magazine –- led by Greenwald, Laura Poitras and Jeremy Scahill –- will be "in-depth reporting" on classified documents provided by former National Security Agency contractor Edward Snowden.
Greenwald and Poitras have been at the forefront of the NSA surveillance story, having met with Snowden in Hong Kong and conducted a video interview in which he revealed himself to the world. Scahill, an award-winning national security journalist, most recently wrote the book Dirty Wars, the basis for a documentary nominated for an Academy Award.
In October, Omidyar told HuffPost he planned to spend upwards of $250 million on a new digital news venture, the same amount Amazon CEO Jeff Bezos had just paid for The Washington Post.
After months of media speculation, First Look last week pulled back the curtain in a three-minute animated video. Omidyar described plans for a flagship general interest news site launching this year, a separate technology company, and several digital magazines focused on specific subjects.
Eric Bates, a former Rolling Stone executive editor helping steer First Look's editorial strategy, told HuffPost last week that each digital magazine will have its own leadership and can be different in tone and style.
Both Greenwald, who left The Guardian last year, and Poitras, an independent journalist, have continued reporting on the NSA documents with other news organizations. Their reporting now presumably will be featured in First Look's first effort, along with contributions from several other journalists coming aboard Thursday.
Peter Maass, a veteran magazine writer who profiled Poitras last year for The New York Times Magazine, has joined as senior writer. Marcy Wheeler, an independent journalist and prominent national security blogger, will work with First Look as a senior policy analyst and consultant. Scottish journalist Ryan Gallagher has joined as a reporter focused on national security, technology and civil liberties.
First Look could not pick a more controversial topic for its inaugural issue, with a top U.S. intelligence official and a Washington lawmaker suggesting in the past week that reporting on Snowden-leaked documents is a criminal act.
Director of National Intelligence James Clapper said last week that journalists reporting on the NSA documents are Snowden's "accomplices," a word that suggests members of the media are part of a criminal conspiracy. On Tuesday, House Intelligence Chairman Mike Rogers (R-Mich.) described journalists reporting on the documents as essentially "fencing stolen material."
Washington Post executive editor Marty Baron told his paper this week that the statements of Rogers and Clapper serve to "criminalize" the act of being a journalist.
"You have to be concerned when a member of Congress is framing the issue this way," Baron said. "It leaves the suggestion that legitimate news reporting is tantamount to a criminal act. It's not and shouldn't be characterized that way."
Omidyar has shown a willingness to push for government transparency, having launched a legal center in Hawaii last year.
On Thursday, Omidyar wrote, "First Look will uphold the rights of journalists everywhere to report on the sensitive and often controversial information that they learn from sources."
Before You Go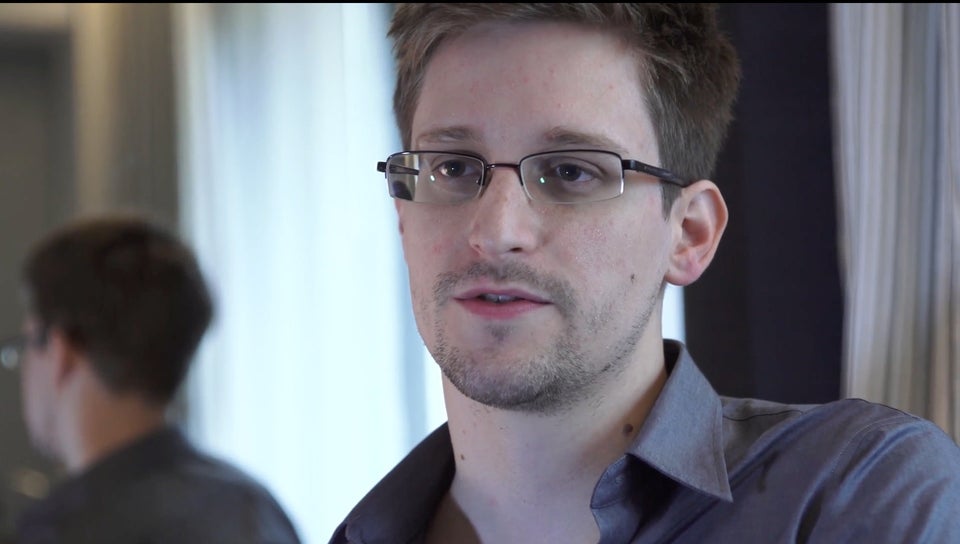 Edward Snowden
Popular in the Community