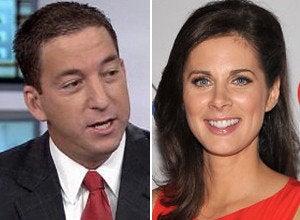 Salon's Glenn Greenwald and Erin Burnett went back and forth over Twitter on Friday after Greenwald savaged a recent segment about Iran on Burnett's CNN show.
On Friday, Greenwald tore into Burnett's segment, which posed the question, "is Iran planning an attack in America?" Burnett ran through a long list of government claims about Iran's alleged nuclear ambitions and desire to commit terrorism inside the United States. She then spoke to Republican Congressman Peter King about Iran.
Greenwald harshly criticized Burnett's commentary and wrote, "It's the sort of thing you would produce if you set out to create a mean-spirited parody of mindless, war-hungry, fear-mongering media stars, but you wouldn't dare go this far because you'd want the parody to have a feel of realism to it, and this would be way too extreme to be believable."
After someone on Twitter criticized Burnett, citing Greenwald's post, she responded.
"I've been to Iran & pro-Americanism ruled," she wrote. "I've said this many times. Now we're told Iran is domestic threat, we report that too."
Greenwald then wrote to Burnett, saying, "Your duty as a journalist isn't fulfilled by repeating what govt officials tell you - that's the job of a govt spokesperson."
Burnett responded, "We do many angles over time.I'm proud of my and my team's work. And I'm glad I went to Iran, not many have. Thanks for watching."
Watch Burnett's report below
:
Related
Popular in the Community