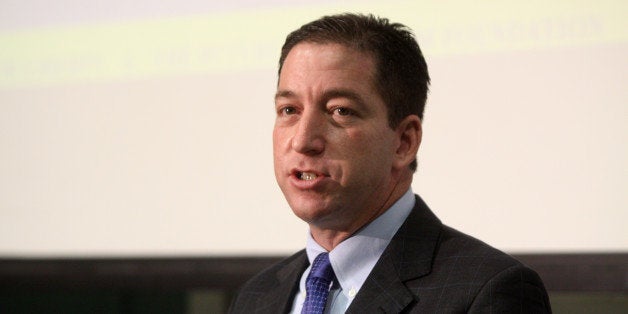 Journalist Glenn Greenwald did not hold back Friday in criticizing the media during a speech about his work with Edward Snowden.
Greenwald, who reported on the National Security Agency's secret domestic surveillance programs with the help of documents leaked by the former NSA contractor, spoke to the Chaos Communication Congress in Hamburg, Germany, via satellite from Brazil. According to Russia Today, he denounced journalists in the United States and Britain, accusing them of failing to challenge those in political power and of discrediting anyone who dared to do so.
"[W]e knew in particular that one of our most formidable adversaries was not simply going to be the intelligence agencies on which we were reporting and who we were trying to expose, but also their most loyal, devoted servants, which calls itself the United States and British media," Greenwald said.
He said that the NSA programs came to light "almost entirely without them and despite them." Their role as journalists, Greenwald claimed, "is not to be adversarial, their role is to be loyal spokespeople to those powerful factions that they pretend to exercise oversight."
On Friday, he sarcastically called journalists "brave" for going after Snowden and other people who have "no power," but failing to scrutinize government officials who he said have "lied." Listen to the full speech here.
Greenwald's comments on Friday echoed his previous critiques of the media. Earlier this year, for example, Greenwald said his interview with David Gregory -- in which the NBC "Meet the Press" host suggested that Greenwald "aided and abetted" Snowden -- was the perfect example of journalists being "mouthpieces" for the government. Greenwald also accused MSNBC of trying "to distract attention away from these disclosures" because of bias toward Obama, and has taken on other media outlets over their coverage of Snowden and the leaks.
Related
Popular in the Community