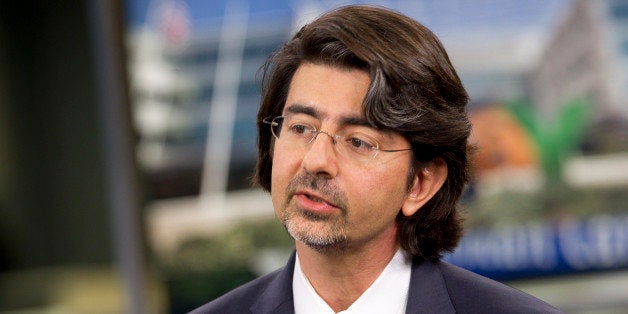 WASHINGTON, Oct 15 (Reuters) - Glenn Greenwald, who has made headlines around the world with his reporting on U.S. electronic surveillance programs, is leaving the Guardian newspaper to join a new media venture funded by eBay founder Pierre Omidyar, according to people familiar with the matter.
Greenwald, who is based in Brazil and was among the first to report information provided by one-time U.S. National Security Agency (NSA) contractor Edward Snowden, wrote in a blog post on Tuesday that he was presented with a "once-in-a-career dream journalistic opportunity" that he could not pass up.
He did not reveal any specifics of the new media venture but said details would be announced soon. Greenwald did not immediately respond to a request for comment.
Two sources familiar with the new venture said the financial backer was Omidyar. It was not immediately clear if he was the only backer or if there were other partners.
Omidyar could not immediately be reached for comment.
Omidyar, who is chairman of the board at eBay Inc but is not involved in day-to-day operations at the company, has numerous philanthropic, business and political interests, mainly through an investment entity called the Omidyar Network.
Forbes pegged the 46-year-old Omidyar's net worth at $8.5 billion.
Among his ventures is Honolulu Civil Beat, a news website covering public affairs in Hawaii. Civil Beat aimed to create a new online journalism model with paid subscriptions and respectful comment threads, though it is unclear how successful it has been.
Omidyar, a French-born Iranian-American, also founded the Democracy Fund to support "social entrepreneurs working to ensure that our political system is responsive to the public," according to its website.
Omidyar's active Twitter account suggests he is very concerned about the government spying programs exposed by Greenwald and Snowden.
The former NSA contractor was granted asylum in Russia on Aug. 1. He is living in a secret location beyond the reach of U.S. authorities who want him on espionage charges because he leaked the details of top-secret electronic spying programs to the media.
"There goes freedom of association: NSA collects millions of e-mail address books globally," Omidyar tweeted on Tuesday, pointing to a new Washington Post story based on Snowden documents.
Jennifer Lindauer, a spokeswoman for the Guardian, said in a statement posted on Greenwald's site: "We are of course disappointed by Glenn's decision to move on, but can appreciate the attraction of the new role he has been offered. We wish him all the best."
The news of Greenwald's departure from the Guardian was reported earlier by Buzzfeed. (Additional reporting by Jennifer Saba in New York and Jonathan Weber in San Francisco; Editing by Tiffany Wu and Grant McCool)
Related
Popular in the Community