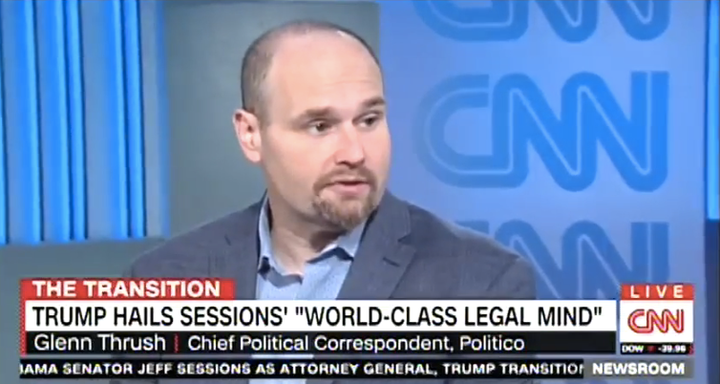 Politico chief political correspondent Glenn Thrush is joining The New York Times to cover the White House, the newspaper confirmed Monday.
Over the past eight years, Thrush has emerged as one of Politico's standout journalists, most recently writing a 13,000-word dive into the pivotal moments of the 2016 election.
He joined Politico in July 2008 after covering Hillary Clinton's unsuccessful presidential bid while at New York's Newsday. He's reported deeply on Congress, the Obama White House and three presidential elections. Thrush also serves as a senior staff writer for Politico Magazine and was an author of Politico ebooks during the 2012 race.
"We're thrilled that Glenn Thrush is joining The Times," Elisabeth Bumiller, the paper's Washington bureau chief, said in a statement to The Huffington Post. "He's a premier political journalist, a master of breaking news and long-form story telling and a stellar addition to our White House team."
At the Times, Thrush will be reunited with former Politico stars Jonathan Martin, Alexander Burns and Maggie Haberman, whom he recently interviewed for his podcast. His hiring suggests that the paper is turning to reporters with tabloid roots to cover an incoming president reared in New York's media culture. Thrush previously worked at Newsday while Haberman, who has covered both Trump's campaign and his transition, previously worked at the New York Post and Daily News.
Thrush had been considering a move for some time, according to sources, though he decided to stay at Politico through the 2016 election.
The departure comes amid a series of post-election changes at Politico.
Carrie Budoff Brown, who was tapped in July to be the site's editor, officially took the helm following the election. Brown has beefed up the editorial ranks with The New York Times' Paul Volpe, who recently became executive editor. On Wednesday, Politico added The Wall Street Journal's Sudeep Reddy as one of the publication's two managing editors.
Politico has hired National Review's Eliana Johnson to cover the Republican Party and announced that Tara Palmeri would be heading stateside from Politico Europe to cover the White House. Politico also recently nabbed Times Washington correspondent David M. Herszenhorn to join Politico Europe as chief Brussels correspondent.
Meanwhile, Kristen Roberts, Politico's national editor and a candidate for the top job during the summer, announced last week that she was leaving. She joined McClatchy on Monday as executive editor of its Washington operation.
Bumiller and Washington editor Bill Hamilton announced the Thrush hire in an internal email Monday afternoon, along with the news that Peter Baker, a veteran White House correspondent who became Jerusalem bureau chief earlier this year, was also returning to the White House team.
Mark Landler, Mike Shear, Julie Davis and Maggie Haberman have been doing a sensational job breaking stories, covering

6 a.m.

tweets and staying ahead of the relentless news on the transition beat.

On

January 20

, they'll officially become our stellar Trump White House team, along with two terrific additions: Peter Baker, who is returning to Washington from Jerusalem, and Glenn Thrush, who is joining us from Politico.

Peter needs no introduction and Glenn is a friend to many of you. But here goes:

Peter, The Times' Jerusalem Bureau Chief, covered the Obama White House for The Times and the George W. Bush and Clinton White Houses for The Washington Post ― a total of 15 years on the beat. In between he spent four years in Moscow for The Post covering the rise of Vladimir Putin and the early months of the wars in Iraq and Afghanistan. He's written books on the Clinton impeachment and George W. Bush's presidency, and has one coming out in May on the Obama presidency.

Glenn, Politico's chief political correspondent and a senior staff writer for Politico Magazine, was previously Politico's main White House correspondent. He's a master of breaking news and long-form storytelling, but may be best known for his fedora, which Politico editors enshrined as part of the logo for Off Message, his successful podcast. His writing has appeared in The New York Times Magazine, The Washington Post, The Village Voice and Guitar World, where he wrote under the pseudonym Glenn Thrash. He's a native of Brooklyn, a graduate of Brooklyn College and managed his parents' ice cream store in Brighton Beach.

Mark, an Obama White House reporter and the author of "Alter Egos,'' about Barack Obama and Hillary Clinton, will be based in Washington along with Peter, Glenn and Mike and Julie, who have expertly covered the second-term Obama White House for us. Maggie, who covered the 2016 presidential race from deep inside the Clinton and Trump campaigns and has been responsible for daily scoops and tireless reporting during the transition, will be based in New York to cover the White House north and the doings at Trump Tower.

Glenn will start in the bureau on

Jan. 3

and Peter soon after.

The Trump White House is going to be an extraordinary story and we're thrilled to have such an extraordinary team covering it.

Elisabeth and Bill
This story has been updated with confirmation and comment from the Times.
Related
Popular in the Community