Although I do not believe in organized religion, I had to find out first-hand the reason Warren Buffett, one of the richest philanthropists in the world, chooses to contribute to San Francisco's Glide Memorial Church.
Upon my arrival several Sundays ago, I was struck by the diverse group of attendees from SF residents, to tourists, students, and people with various disabilities, such as the French Paralyzed Association. "It is always full of tears, smiles and happiness," whispered a woman sitting next to me at the Glide Memorial Church's Sunday Celebration. "It is a very special experience in SF. You see people from different cultures, ethnicities, countries and classes. It reminds you that we are part of a big family." Catherine, 59, is a regular volunteer who enjoys sharing the spiritual messages and music.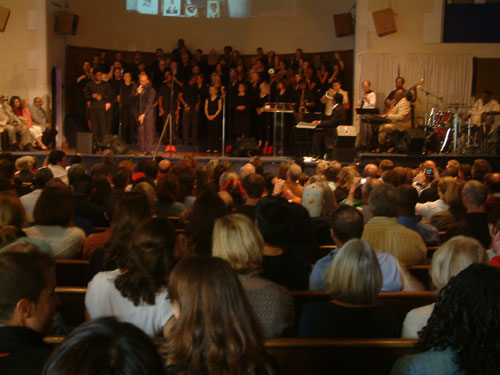 After half an hour of uplifting music and singing by the interracial Glide Choir, Janice Mirikitani, Founding President of the Glide Foundation and wife of church founder Reverend Cecil Williams, opened the sermon by welcoming everyone and encouraging the audience to volunteer and contribute to the church: "No matter what your immigration status is, where you are coming from, and what your belief system's are, you are all welcomed -- it doesn't matter what your sex, religion, race, sexual orientation or 'H' group is, it doesn't matter what your stance is in politics..."
However, it is not the all-encompassing message of love and kindness, which is spread with engaging lighting, photographs and live music, that seems to attract people of all backgrounds and classes; it is the action they put behind their words and the services they provide for the poor and homeless.
Glide's services include providing meals, housing, training, employment and family and health care services. What began as an all-volunteer Monday-night potluck for 50 street people in 1969, how now turned into a program that serves more than a million meals a year, making Glide one of the largest and cheapest restaurants in SF.
This is why Warren Buffett contributes to Glide and has agreed to a luncheon with two wealthy businessman and their families, who donated over six hundred thousands dollars at Glide's Charity Auction in May. Finding it slightly challenging to convince someone to donate that much to Glide to dine with me, I think instead, I will sign up to volunteer and serve meals to the homeless this holiday season.

Popular in the Community