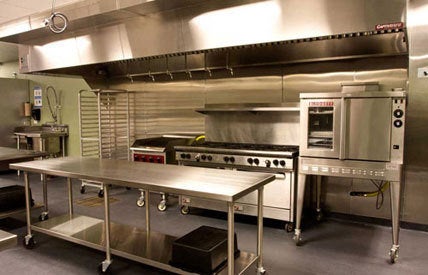 Restaurants come and go, some quicker than others. Glimpse in Logan Square could be the area's shortest-lived venture: it's slated to last all of four days.
The "pop-up restaurant" will be a collaboration between Matt Maroni, the mastermind behind the Gaztro-Wagon, Adam Seger of Hum Spirits on the cocktail pairings, and pastry chefs from Fritz Pastry handling bread and dessert courses. It will occupy the Logan Square Kitchen space, a collective kitchen in a neighborhood known for its fine eats, located next door to Revolution Brewing and just down Milwaukee Avenue from the super-hot Longman & Eagle.
Maroni and crew will be offering a five-course meal of fish, vegetables, meat, cheese and dessert, for $10 per course. The dazzling menu includes grapefruit-yucca whitefish, spinach ricotta ravioli and venison accented with coffee and plantain.
Glimpse will be open from Wednesday, April 6 to Saturday, April 9. And as part of the "social collective experience" that it's trying to create, reservations will be handled exclusively on Twitter.
To grab a table, follow @Glimpse_Chi -- they'll follow you back, then you can send them a direct message with date, time, and number of diners.
But hurry, tables are getting grabbed up quick: @logansqkitchen tweeted at noon on Wednesday, "is it possible that GLIMPSE is going to sell out in less than 2 days? Jeepers!"
Here's a full look at the menu:
REAL LIFE. REAL NEWS. REAL VOICES.
Help us tell more of the stories that matter from voices that too often remain unheard.