In makeup, few things are as polarizing as glitter. Perhaps because of their association with pageant queens, Halloween costumes or Mariah Carey in the campy movie, Glitter, shimmering shades rank laughably low on most people's makeup must-have lists. But a swipe of iridescent dust on the eyes, cheeks or lips can be a magical thing. The poster girl for glitter right now is Ke$ha, who can appear as if she's bathed in tinsel before a performance. Admittedly, she's an extreme example. For civilians, a little dose of sparkle can enliven your makeup, make you look younger and add a twinkle to an otherwise bare face. The latest incarnations are even subtle enough for day. Just look for fine glitter and avoid big theatrical flakes.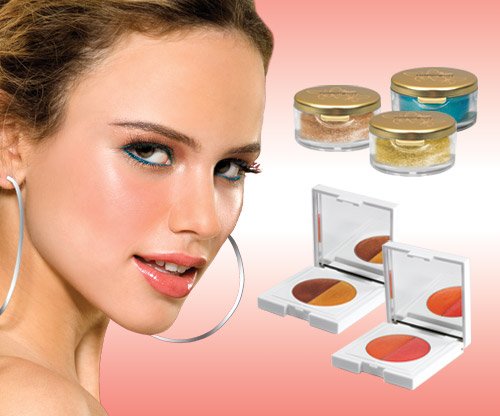 Glitter gals rejoice: Napoleon Perdis Loose Eye Dusts in glittering shades [top] and NP Set Shimmer Highlight Duos [bottom].
Stick To It: When applying a glittery eye shadow, spread a small amount of lash glue above your lash line with a small angled eye brush. Be careful to avoid the crease of your eyes -- you don't want any adhesive here. Dip the same brush into your glitter pot and press gently on the eye. The glue will secure the glitter and prevent any messy fall out. If you do get glitter on your face, remove with a little piece of sticky tape.
Shimmer Time: Choose one feature to embellish like the eyes, cheeks or lips. When you're more confident, adding a dose of sparkle to both eyes and cheeks can look arresting. Try a light dusting over your makeup for a Donna Summer at Studio 54 look. My new Loose Eye Dusts are wonderful little multi-taskers. I use these pigment-rich, ultra-sparkly shades on eyes, as an eye liner, on cheeks and even lips -- just mix with a little lip lacquer for a customized color. We've seen this look on numerous fall runways lately.
Cream Please: It's easy to create a sultry eye statement with creamy glitter products. The creamy texture really stays put and you can build your intensity. I just launched my NP Set Shimmer Highlight Duos at Target. Available in gold/bronze or pink/peach combinations, the highlighters can be used over or under your makeup. Apply with a small synthetic brush or even with your fingers. Rim the top and bottom lash line with a black liner and add a nude gloss to lips. You can also use these highlighters on the cheekbones.
Million Dollar Pout: Enhance your favorite lipstick shade with a coat of glitter. It's a rich, decadent look that's perfect for a cocktail party (a straw is advised, at least for the sake of your host). Apply the loose glitter with a compact lip brush and start in the center of the lips. Pat the glitter on while your lips are closed to ensure a precise application. Don't worry about setting your masterpiece -- the moisture from the lipstick will keep the sparkle in place, but for touch-ups use a gloss.
Glitz Mix: For a hint of metallic shimmer on your body -- shoulders, décolletage, collarbone, legs -- mix a fine gold or bronze glitter with your regular moisturizer. Use sparingly and the eye-catching results will look phenomenal in photos. It's an easy way to create all-over luminosity when you want to dazzle.