A night before the official opening of the current exhibition "Global Africa Project," lines were forming in front of the Museum for Arts and Design (MAD) in New York City. People were impatiently waiting to catch a glimpse of what Africa has to offer artistically today. They were overwhelmed by concepts, colors, shapes and the idea behind the exhibit: Africa becoming a vehicle for the coexistence of tradition and progressive artistic experiment - and therefore truly global. Ceramics, basketry, textiles, jewelry, furniture, architecture, fashion, photographs, paintings and sculptures sprawl over three floors, demonstrating how fruitful and inspiring the generous combination of different artistic genres can be.
Nevertheless the exhibit goes beyond simply showing art, demonstrating a clear and thoughtful "third way" in terms of how to create economic sustainability in Africa.
As curators Lowery Stokes Sims and Leslie King-Hammond mention in their introduction to the exhibition's catalogue, "Many of the creators in this exhibition are one-person production entities, while a few work for larger corporations. Many of the works in the exhibition come from community contexts where they represent the morphing of traditional skills into a global commercial entity."
One of the artists is Olu Amoda from Nigeria. His contribution is the piece "Gele" from the series "Head & Tie: Fashion Architectonic." Gele is a Yoruba word used in Nigeria for a female headwrap. A headwrap is a long piece of cloth that women tie and tuck on their head to create different looks. A gele can also transport different messages, for example "I am married," or "I am still available." Amoda is taking a satirical approach on West African habits and society by creating a gele that is made out of pieces of metal he found in his home country. "Very often," he explains, "you go to an event in Nigeria and you might have a lady in front of you with one of these huge head wraps blocking your view the entire evening. You can be sure that she will be the centre of attention, not necessarily what is happening on stage." Not only is using heavy metal for an object that is usually made from soft, organic and colorful materials an interesting alienation and a very radical Stilbruch (change in style), it also demonstrates the sometimes heavy burden of tradition. That is one of the many concepts at the Global Africa Project which is universally applicable. Beyond that, Amoda has a strong political message he expresses in his piece "Windows of Dream, Edition 2010" to be seen at the MAD as well. The Window of Dream is a screen made from recycled nails and locks and relates to the security doors he creates as a side line for the rich and famous in Lagos:
"Found objects are repurposed materials. In repurposing these nails, I am suggesting the displacement that has resulted from civil strife and border disputes in Nigeria, especially in the Niger Delta region and Jos in central Nigeria. In such situations, the world watches helplessly. Worse still, very often oil and corrupt money continue to flow to the West, in exchange for weapons of destruction, only adding to the suffering. To many in the West this is the African Project 'oil for guns,'" reads the artists statement.
How to turn everyday objects into pieces of art is also a concept the Brooklyn born, Nigerian-American artist Adejoke "Wahala Temi" Tugbiyele Sedita performs well. Her piece AFRIKEA is as simple as it is beautiful and if nothing else, dysfunctional in its practicality. Wahala says, "Traditional African stools may be simple and minimalist in form, but at times they are also highly decorative and descriptive." Wahala touches on themes such as waste, overconsumption, and a one-size-fits-all design approach. The object is made of recycled IKEA stools, twine foam, and ankara fabric from Nigeria. "Ironically, IKEA has no store locations in Africa," she adds. Her motivation is clear and also embraces politics. "I try to find the nexus between my dual-cultural background - Black/American and Yoruba/Nigerian - as well as unveil where contradictions lie. In addition, I create art that responds to injustices such as crimes against the female body and the environment."
The Global Africa Project will be on view at the Museum of Arts and Design in New York City until May 15th 2011. It will then travel to the Reginald F. Lewis Museum of African American History & Culture, Baltimore, MD.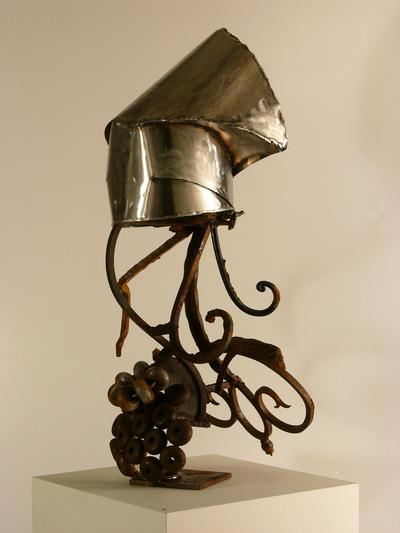 Gele by Olu Amoda, Photo: Skoto Gallery, New York City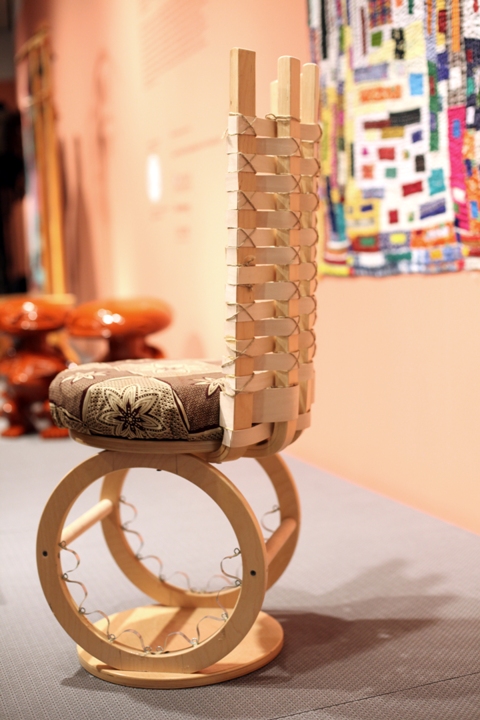 AFRIKEA by Wahala Temi, Photo: Delphine Fawundu-Buford
REAL LIFE. REAL NEWS. REAL VOICES.
Help us tell more of the stories that matter from voices that too often remain unheard.