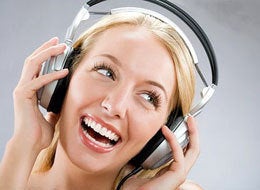 When I turned my journalism focus from rock and hip-hop to global music in 2001, I quickly realized that the political and media-driven clichés that I was being taught by newspapers and television accounted for but a small minority of each country's population. The way to enter and embrace a nation is through the arts, most notably music, which, despite the criticisms from a small number of record executives (who unfortunately have a big percentage of legislative pull), is in great shape as both an industry and as a creative force. Today, our ability to taste and sample the music of the world has never been greater. Here are four artists dedicated to preserving their own culture's musical form while, to a varying degree, evolving it into future possibilities.
With a growing list of accolades, Cape Verdean singer Maria De Barros has been reinterpreting her ancestral homeland since her 2003 debut Nha Mundo. Music is in this Senegalese native's blood, almost literally -- her godmother is the famed Cesaria Evora, Cape Verde's musical queen. After releasing her follow-up, Danca Ma Mi, with Narada, she moved over to the South African label Sheer to distribute her latest, Morabeza. While the global-influenced singer (now a Los Angeles resident), considers her music to borrow from elements of many cultures, at root you hear the soft acoustics and dependably groove-oriented African rhythms embedded in every note.
What carries the weight of this album, as on her last two, is her voice. It doesn't necessarily need instrumentation, and fortunately most of her latest album is musically sparse, offering De Barros more room to flex her lyrical strength. So while the upbeat songs are enjoyable, one listens to her for tracks like "Nha Vazio," which includes a simple guitar line, a few string sections, a tasteful harmonica interlude, and not much else. Beautiful.
Cultural cataloging is part of San Francisco-based producer and performer Jef Stott's latest project, Eliyahu Sill & The Qadim Ensemble. After releasing a fierce Arabic-tinged electronica record on Six Degrees, Saracen, he joins with multi-instrumentalist Sills to produce his very organic, richly textured exploration of Jewish and Arabic folk songs. The instruments Sills plays are many; ney, oud, bass, and vocals dominate. The ensemble takes care of the rhythm and some of the vocals, including a gorgeous outing by Rachel Valfer, who also doubles up on oud. Her interpretation of the classic "Im Nin'alu" is breathtaking.
Eastern Wind (Embarka) is at root a musical project devoted to healing the social and political rifts forced upon Jewish and Arabic populations for nearly a century now. (We'll leave aside the Christian roots of this occupation, which would date it back many more.) The ensemble chose the word Qadim, as it implies both history and "that which is to come" (in both Arabic and Hebrew), symbolically locking them into their mission when presenting this deeply sonorous album of songs of love and devotion. It is a gorgeous attempt at a cause which has seen too many musically clunky efforts over the years, for it does not sacrifice music for message; the darkness in rhythm and melody hints at yearning as much as fulfillment, correctly capturing the mindset of so many today.
What Valfer's voice is to Middle Eastern song, Lily Storm is to Eastern Europe. Not that the Bay Area vocalist is limited to these musics either, but that region is the focus of her latest solo album, If I Had a Key to the Dawn (Songbat). It is a stark, stunning record, unsurprising upon learning that Storm sang with vocal troupe Kitka for a half-decade, whose albums never disappoint. Here she takes on Greece, Aremenia, Hungary, Bulgaria, and more on their own terms, creating a stunning tapestry of sounds backed up by an elegant selection of instrumentalists.
Hence, you have accordions, duduks, riqqs, bouzoukis, and harps all subtly (well, as subtle as an accordion can be) laying the backdrop for Storm's powerful voice to sail over. There are very few opportunities for Americans to hear such an array of European folk songs in one place -- Kitka has been one of the few holding down the throne -- so Storm's songs of "love and lament," as the subtitle goes, is a welcome addition, enough to pique and fill anyone's curiosity.
While so far we have explored three quieter, predominantly female -- if not in person than in tone -- ways of reflecting culture, here we go off in an entirely different direction: mariachi. This over-the-top, showboating Mexican folk form is masculine in all its heart-tearing and tear-jerking glory. The father son team of Pedro and Mauricio Gonzalez, leaders of the group Mariachi Real de San Diego, went crate digging in Tijuana to pull out the holiest of the holy mariachi gems. The result is the appropriately titled Mariachi Classics (Mardi Gras).
OK, this is not subtle music at all, but if you are feeling nostalgic for the culture that you know (or want to pretend to know), this is the place to start. Cliché? Certainly: that combination of guitars and brass and violin is irrefutably Mexican. Fortunately this sextet does it well, and while it's tough to listen to an entire album without having flashbacks of mariachi bands joining ranchera icon Vicente Fernandez (or, worse, of a group of mariachis chasing my cab in Mexico City in full garb, trying to physically stop the driver so they could play for us), this band's name is true to the word: they are the real thing.

Popular in the Community