The recent outbreak of violence in several Muslim-majority countries, ostensibly in response to a malicious amateur video created by anti-Muslim hatemongers, has prompted calls for limiting speech that insults or does not "respect" religions and prophets, or the so-called defamation of a religion. Freedom House, along with many other human rights and free expression organizations, has spent years attempting to turn the tide of opinion at the United Nations against this idea, which had continued to rear its ugly head each year in a resolution condemning the so-called "defamation of religions." In 2011, we succeeded, only to see the progress quickly reversed as a result of the disparaging "Innocence of Muslims" video clip and the ensuing violence that has left dozens of people dead around the world.
Religious belief is a very personal thing. And everyone's right to believe what and how they choose should be fiercely protected. But is religion itself entitled to the same rights as the believer? If one follows this line of thinking, an argument could be made that beliefs and concepts like communism and capitalism should also be protected from insult. While this would certainly make our foreign relations (and our elections) friendlier, imagine the impact this would have on free and open political discourse. Beliefs do not have rights. They are by their nature open to opposing views and debate.
Why are laws or resolutions which prohibit of "defamation of religions" or blasphemy problematic?
Resurrecting the problematic concept of "defamation of religions" violates the universal right to freedom of thought, conscience and religion itself by designating certain ideas as off-limits for debate and discussion by believers and non-believers alike. Even though it may be deeply hurtful and even offensive to have another person criticize your religious beliefs, doing so is not in and of itself a violation of your rights, whereas restricting such speech is a violation of the right to free expression. This right is codified in Article 19 of the International Covenant on Civil and Political Rights.
Domestic laws against religious "defamation" and blasphemy have commonly been used to repress religious minorities, restrict the ability of majority religious believers to practice their faith the way they choose, and even to settle personal grudges.
National laws against religious "defamation" and blasphemy have commonly been used to repress religious minorities, to restrict the ability of members of the majority religious community to practice their faith in the way they choose, and even to settle personal grudges. In Pakistan, 16 people are on death row for blasphemy, and at least 20 others are serving life sentences. A 14-year-old Christian girl with mental disabilities was arrested there last month for allegedly desecrating an Islamic textbook. And two prominent Pakistani politicians were assassinated in early 2011 merely for advocating reform of the country's harsh blasphemy law. In Egypt on Wednesday, a 24-year-old activist was charged with blasphemy after sharing scenes from "Innocence of Muslims" on Facebook and speaking negatively about religions.
As documented in Freedom House's special report, "Policing Belief: the Impact of Blasphemy Laws on Human Rights," and by other human rights groups, these laws have serious consequences for individuals on the ground and even encourage the religious violence they are supposedly designed to prevent. Moreover, the concept of "defamation of religions" attempts to provide rights to a belief or idea rather than an individual or group of individuals, which fundamentally contradicts the standards set by existing international law.
There is no evidence that restricting speech prohibits intolerance, and, in fact, evidence shows that prohibitions on so-called blasphemous speech actually increases intolerance and leads to a wide-range of human rights abuses including religious discrimination, torture, arbitrary arrest, ill-treatment and even death.
Why shouldn't religion have the same protection as race?
The concept of "defamation of religions" falsely equates religious belief with race. A person's race is immutable, while religion is a belief that individuals are free to choose or change (unless they live in a country with a blasphemy law that criminalizes conversion). Criticizing a race automatically infers criticism of individuals of that race. Not so with religion. While discriminating against a person for his or her religious beliefs is a human rights violation, criticizing the belief itself is not.
What is the United Nations "Defamation of Religions" resolution?
From 1999-2010 the Organization of Islamic Cooperation (OIC) put forth a resolution at the United Nations Human Rights Council prohibiting "defamation of religions," which would restrict free expression and urged states to abridge this right by enacting domestic laws restricting such speech. Similar resolutions also passed at the U.N. General Assembly. Each year it passed, but with a declining number of votes. Proponents of this concept argue that Muslims are facing a proliferation in intolerance and discrimination, known as "Islamophobia," which is demonstrated by negative portrayals of Islam that associate the religion with human rights violations and terrorism. Proponents contend that the United Nations and its member states should ban speech and actions that "defame" Islam and other religions.
The ultimate goal of an international treaty on defamation of religions would amount to a global blasphemy law.
What is Resolution 16/18 and why is it better?
In 2011, the OIC did not put forward the annual "defamation of religions" resolution, and instead, both OIC member countries and Western countries, including the United States, replaced it with the vastly improved Resolution 16/18 entitled "Combating Intolerance, Negative Stereotyping and Stigmatization of, and Discrimination, Incitement to Violence and Violence Against, Persons Based on Religion or Belief." It focused on the rights of individuals to be free of intolerance and discrimination based on religion while calling upon states to take concrete steps to protect religious freedom, prohibit dissemination and hate crimes, and counter offensive expression through dialogue, education and public debate rather than criminalization of speech. In response to the calls for concrete actions, member states launched the Istanbul Process, which focuses on how state can actually implement the recommendations in this resolution. One expert-level meetings already occurred, in 2011 in the United States, and the next one will be held in Dec. 2012 in the United Kingdom.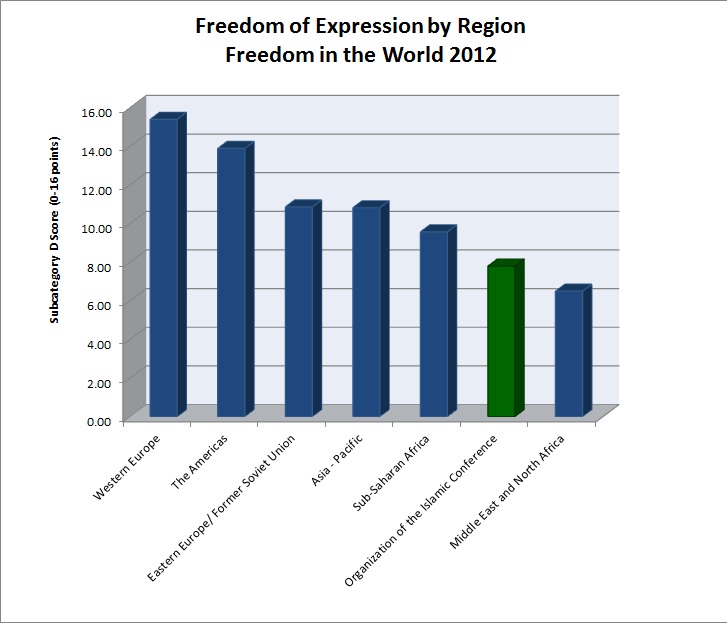 Data drawn from from Freedom House's 2012 survey "Freedom in the World."
Support HuffPost
The Stakes Have Never Been Higher
Related
Popular in the Community