The previous century was the American Century. The next 100 years belong to the Chinese.
Amid this rapidly changing order, hundreds of Chinese students and Chinese studies majors at top universities in North America have recently formed a network dedicated to forging new economic, cultural, and political links between East and West.
From Harvard and Yale across to Chicago and Michigan, down to Emory and Rice, and out to UC-Berkeley -- with Toronto and McGill hovering above -- this emerging community called Global China Connection (GCC) previews the Who's-Who of world leadership in the next few decades.
Founded this past September by two Columbia University undergraduates, Gavin Newton-Tanzer and Derrick Fu, GCC has a simple motto: Build friendships, Spread awareness, Honor culture, Become a leader, Change the world forever.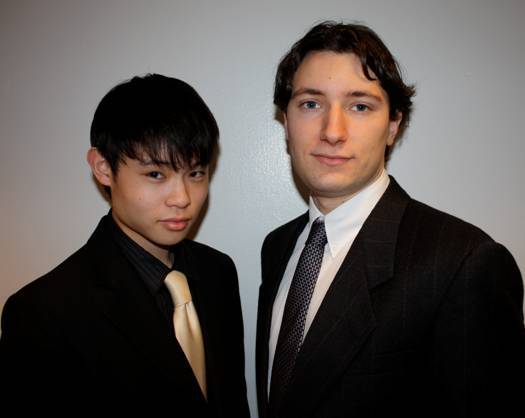 Derrick Fu, president of Columbia's freshman class and Gavin Newton-Tanzer, Global China Connection founders.
The Huffington Post recently spoke with Gavin, the organization's president, about his vision at a cafe off Columbia University's campus on Manhattan's Upper West Side. At 20, Gavin is the youngest thought leader I have ever interviewed.
While born in the United States, Gavin has spent much time studying abroad in both France and China. Fluent in English, French, Spanish, and Chinese, son of a Tyco International V.P., he represents the creme de la creme of American youth. America needs to know who he is - and why he has built this Sino-global network.
"While living in Beijing last year, it became clear to me that many outsiders -- even top American businessmen -- have difficulties penetrating the Chinese language and culture," said Gavin, an international relations major.
"There are misunderstandings on both ends. Relations end up turning sour between guests and hosts. That is why I wanted to create an organization run by both Chinese and Westerners to avoid these problems, and ensure the best experience to anyone interested in spending time in China to study, intern, teach, or volunteer," says Gavin.
The idea for GCC took root as Gavin spent an eventful year in Beijing. After a tumultuous experience with what was supposed to be the top study abroad company in China, he left his proscribed program and began learning Mandarin Chinese on his own to better understand the region and people.
So disillusioned by the study-abroad situation in China, Gavin, who graduated from high school in Connecticut, also decided to create a network that could provide safety and high-quality services to foreign students. After consulting with local companies in Beijing, he conceived the idea of Global China Connection.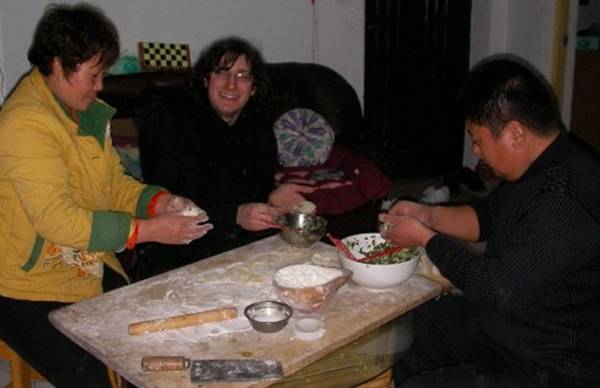 Gavin Newton-Tanzer making Jiaozi in Shandong on Spring Festival (ChunJie).
As he entered his first year at Columbia soon after returning to the U.S. in August 2008, Gavin continued a friendship with Derrick Fu, now the student body president of Columbia's freshman class, that had formed during their final weeks in Beijing. Together, they soon established GCC's first chapter.
As this flagship branch grew, Gavin and Derrick met a number of individuals that would transform not just the nature of the organization itself, but the original dream. Classmates Keith Miao, Timothy Liu, and Alice Zhang all became involved and were all fundamental in getting GCC off the ground and engineering its subsequent growth.
Derrick, who was raised in New Jersey, is chiefly responsible for the surge in growth GCC's network has experienced during the past several months. "I'm just doing my part and expanding the vision," said Derrick, the company's director of Network Management.
"The network is what makes GCC so unique. There are other organizations with similar missions and goals, but no one before had really taken the idea and brought it to the limelight of the global stage. We're looking to be the connection to China, not only within North America or even the West, but throughout the world," Derrick says. He is looking to expand the network outwards into both Europe and Australia this summer.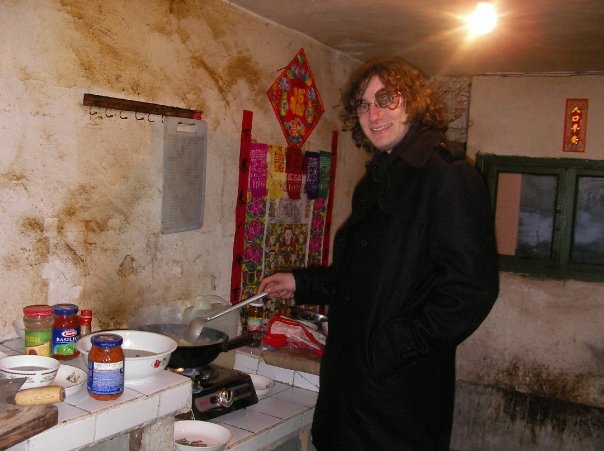 Gavin Newton-Tanzer helps prepare a meal in Shandong Country Village.
Gavin and his young associates are ambitious. They hope GCC can provide study abroad programs to a growing audience of Americans interested in China, collaborate with companies capitalizing on China's economic boom, as well as social organizations focused on alleviating poverty in Asia.
As director of Program Management, Keith Miao, who grew up in Beijing but now lives in Vancouver, is spearheading GCC's social and educational work in China. "GCC is certainly a business," the aspiring anthropology major explains, "but the reason I joined with Gavin is to help give back."
"There are young people like me in China who haven't enjoyed the opportunities that have brought me to where I am now. I am confident that we will be able to deliver on the charitable goals we've established for ourselves," Keith says.
Timothy Liu, GCC's Business Development director, is leading the organization's constant quest for new partnerships with similar organizations, sponsorships with socially minded corporations, and media coverage for GCC.
"Recruiting, bonding with, and leading such a talented team of like-minded college students has been a tremendous experience," said Timothy, an avid debate team participant from the suburbs of Detroit. "Together, we're going to grow GCC into the largest student-run international-China organization - and we're going to do it now."
The driving force behind Gavin's group is belief in the power of networking.
"The collective energy that can be harnessed by multiple groups of people can be so powerful," said Gavin. "I created GCC as a means to develop a network to allow all those that share the similar interest of global-China relations to meet each other and work together. These friendships are meaningful, long-lasting, and life changing."
GCC has already become the world's largest student-run network involved with strengthening global links to China. On April 25, GCC will stage a conference entitled "A Glimpse of China's Future" at Columbia University, a symposium that will bring together hundreds of students from the U.S. and China as well as leaders in politics, business, the media, and academia.
Nobel Prize-winning economist and Columbia professor Joseph Stiglitz will keynote the event. Later this summer, GCC will host a forum in Beijing.
"GCC fundamentally is a means to bring together the future leaders of tomorrow," said Gavin, "to give those students that recognize that we live in a global world as many opportunities as possible to develop their own abilities, experiences, and friendships."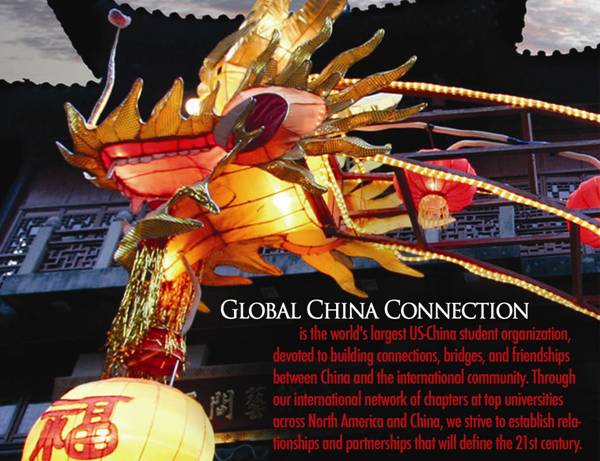 Global China Connection is the world's largest U.S.-China student organization, devoted to building connections, bridges, and friendships between China and the international community. Through our international network of chapters at top universities across North America and China, we strive to establish relationships and partnerships that will define the 21 century.
Edited by Laura Tyson Li. I, Jim Luce, contribute the above article to the public domain.
REAL LIFE. REAL NEWS. REAL VOICES.
Help us tell more of the stories that matter from voices that too often remain unheard.