Millions of young people around the world are stepping out on Friday to support dramatic climate action.
The global climate strike began early Friday in Australia and countries across Asia and the Pacific, and continued in Europe and Africa.
By midmorning in the U.S., protesters had gathered for some of the approximately 800 protests planned across the country, according to the group 350 Action.
In Washington, hundreds of marchers went to the U.S. Capitol building.
In San Francisco, thousands of protestors started off their strike in front of House Speaker Nancy Pelosi's office.
Alison McCormack, a 17-year-old senior at Alameda High School, said she and about 60 of her classmates decided to strike even though her school said it would penalize them with an unexcused absence.
"I decided, hey, school for one day or something that is going to affect our entire life," she told HuffPost, as she marched past the city's famous Cable Car Turnaround. It was her first time participating in a protest of this size and scope.
Look for climate events near you here.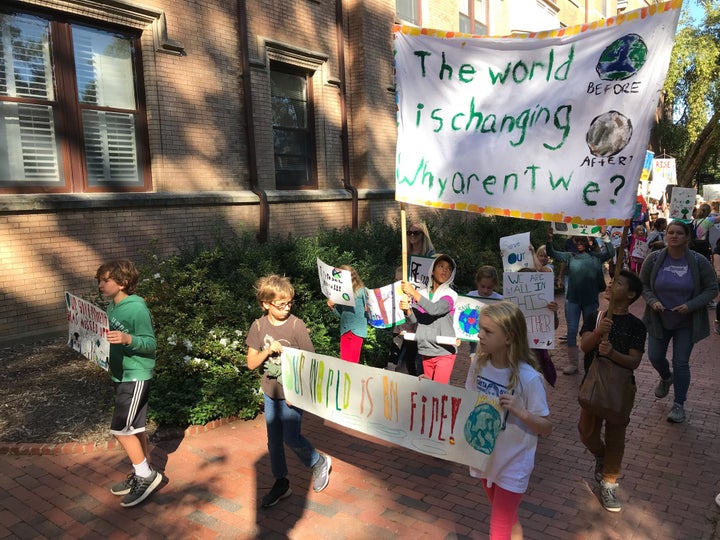 Six-year-old Julianna Finney is one of the millions who've jumped at Thunberg's call to action, her mom Diana Brooks said at the march.
"She's been telling me all week she wanted to come to this," Brooks said of her daughter, who attends school in San Francisco. "She's really big into animal rights and the environment. This is her first opportunity to advocate for change."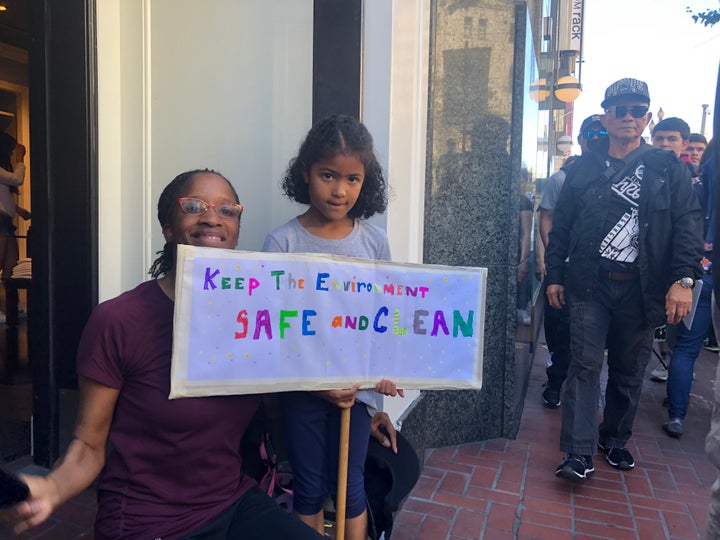 Rupa Marya, a doctor at the University of California in San Francisco, was at the rally with her husband, Benjamin Fahrer, and two kids, ages 1 and 6. The government's inaction on climate change is personal to them, they both emphasized.
"From now until I'm dead, it's gonna be the central issue for my children," Marya said.
Fahrer, a farmer, said he's seen how dirty energy affects kids in his own backyard of East Oakland.
"We're in a predominantly black and brown community that is inundated with industry out of Oakland," he said, noting he'll wake up coughing when he sleeps with the windows open. "Life expectancy is 10 years younger in our neighborhood, and kids develop asthma."
In West Palm Beach, Florida, a few hundred people marched with protest signs to a park along Lake Worth Lagoon. There, organizers warned about the threat rising seas pose to coastal communities in Florida and that warming oceans pose to coral reefs offshore. One speaker led a moment of silence for the nearly 3,000 victims of Hurricane Maria in Puerto Rico.
"And for the Bahamas!" one marcher shouted.
Off the Florida coast, communities on the islands of Grand Bahama and Abaco lay in ruin from Hurricane Dorian, a catastrophic Category 5 storm that made landfall Sept. 1 as the most powerful storm in the small island nation's recorded history. The hurricane killed at least 50 people and left about 1,300 missing. Hundreds of Bahamians have fled to West Palm Beach and other parts of South Florida ― a climate refugee crisis that Democratic presidential candidates ignored during a recent climate forum.
Lumos Raizel, a 15-year-old high school student in Lake Worth, Florida, held up a sign that read: "If you think refugees are a problem now..." He said his family fled violence in their home country of Zimbabwe when he was a young boy and ultimately found refuge in the United States. He's been in the U.S. since he was 5 and says he feels for those trying to escape the devastating effects of climate change, including extreme weather and drought.
"I just think that we as humans have the ability to help each other in times like these," Raizel said.
Friday's events are expected to be bigger than ever, with businesses and school districts around the globe giving students and employees time off to attend local events. New York City's school district said earlier this week its 1.1 million students could skip classes without penalties. Across Australia, more than 2,600 businesses said they were supporting the global strike, urging employees to take the day off or step out for a long lunch.
In Sydney, police estimated at least 80,000 people attended the city's rally, many bearing signs and decrying federal efforts to approve some of the planet's largest coal mines. Other Australian cities saw even larger numbers, including 150,000 in Melbourne and 22,000 in Hobart. It was reportedly the largest strike the capital of Tasmania had ever seen.
Protestors in Sydney held beacons reading: "I want you to panic" and "There is no Planet B." Many signs were aimed at Australian Prime Minister Scott Morrison, including one with the lawmaker's photo and the name "Coaldemort."
"I care about Earth and the environment," 10-year-old Rebecca Manuguerra, who was at the Sydney rally with her mom, said. "I feel good that I'm not the only one just trying to fight for Earth."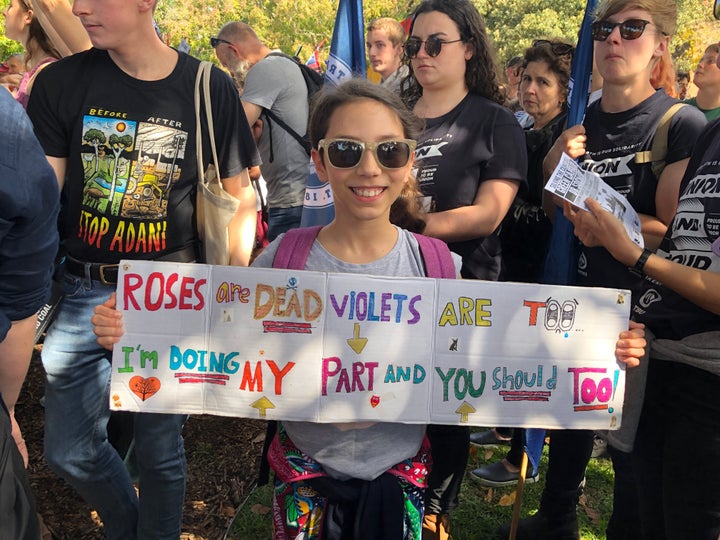 Rebecca Campisi, an elementary school teacher in Sydney who was at the rally with her two kids and mother, said the day's event was inspiring.
"I'm so impressed with how many people have shown up, and so many kids, so many students," she said. "It's very uplifting to know that the future is in safe hands, and obviously there's a very big groundswell now of people that really care about this issue and they can't be ignored any longer. It's time to take some action and make some change."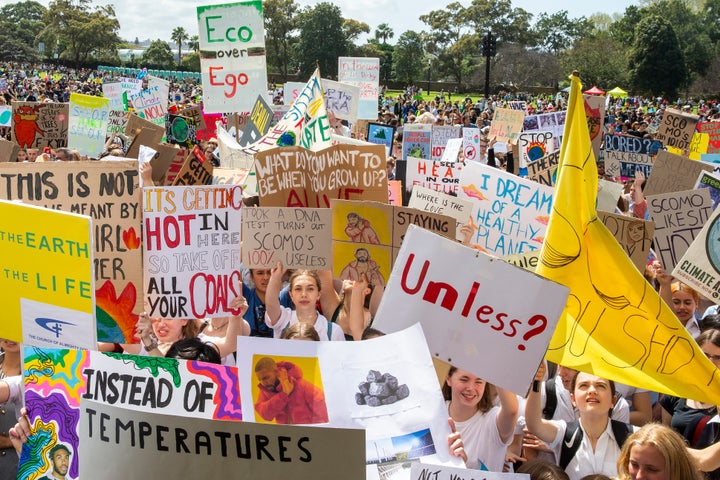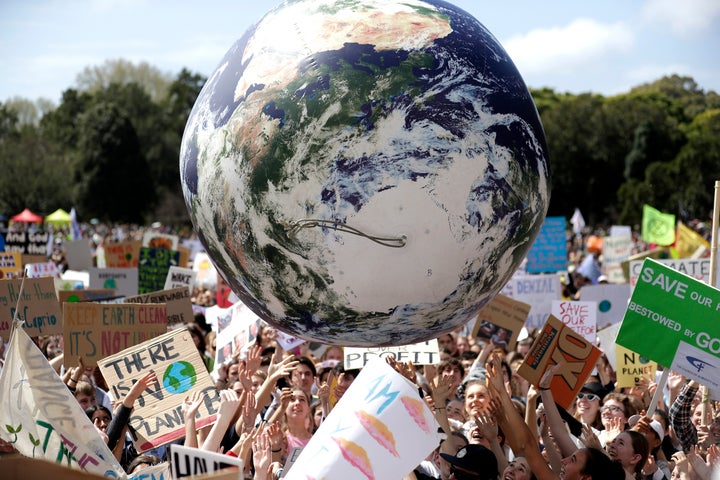 Thousands showed up in Tokyo Friday evening, HuffPost Japan reported.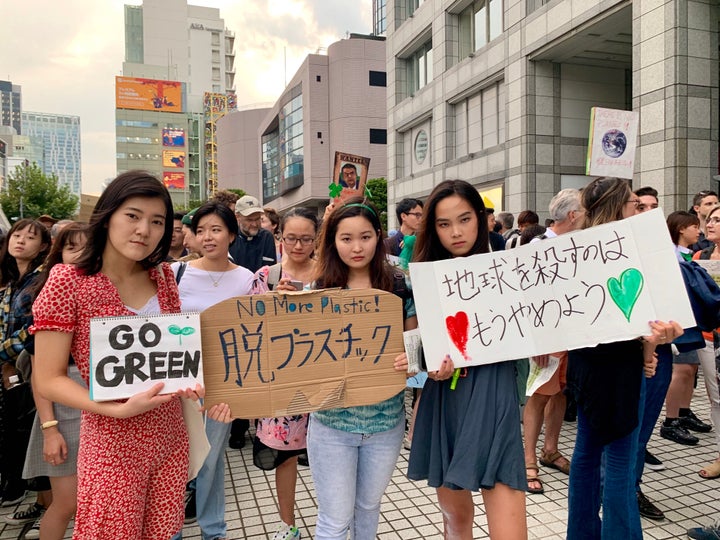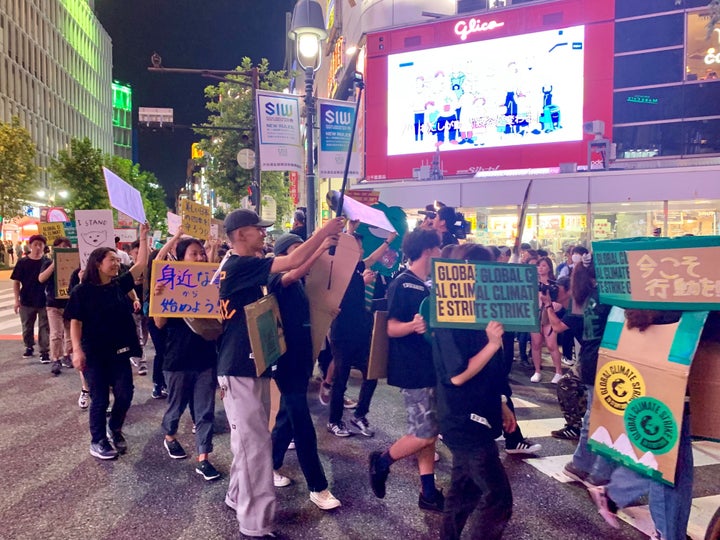 Climate activists led strikes in dozens of cities across Europe and Africa.
The global strike takes place three days before the United Nations holds its Climate Action Summit at its headquarters in Manhattan, one of several high-level events meant to galvanize the world into taking more meaningful action to address climate change.
"The biggest challenge that leaders and institutions face is to show people we care — and to mobilize solutions that respond to people's anxieties with answers," U.N. Secretary-General António Guterres said this week. "Through it all, my message to world leaders will be simple: Put people first. Their needs. Their aspirations. Their rights. People want solutions, commitments and action."
He continued: "And I suspect that we will hear [this message] loud and clear from young people over the weekend."
"The scientific community has done its best to outline the growing climate crisis and to show ways that society can move to meet the challenge. But beyond our work in the natural and social sciences we are also, like everyone else, people," the letter reads. "We don't have much time. It's up to us to self-organize and contribute to the broader movement."
This article has been updated with details on protests in South Florida.
This is a developing story. Please check back for updates.
Popular in the Community