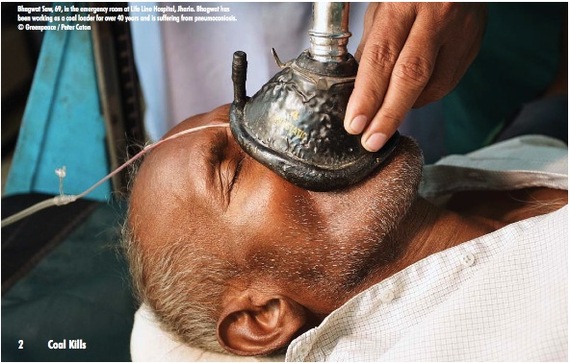 Photo courtesy of Greenpeace India
Co-authored by Bob Burton
The global coal industry thinks hundreds of thousands of deaths every year caused by its operations can be justified. At least that's what the chief executive of the World Coal Association (WCA) Milton Catelin, head of the lobby group representing many of the world's largest coal companies, inferred with his recent comments. Reacting to the grave concerns many have over the health impacts associated with the burning of coal Matelin said, "you have to weigh it" against "the benefits." Apparently death is just the cost of doing business.
In an interview with Responding to Climate Change (RTCC), Catelin made his controversial beliefs known. He was particularly angered by UN climate chief Christiana Figueres who, in her recent speech at a coal industry conference in Poland, argued that while there had been significant benefits from the past growth of coal power, "we now know there is an unacceptably high cost to human and environmental health."
Catelin is head of the World Coal Association which boasts that its members account for over a quarter of global coal production and over one third of global coal exports - represents a who's who of the coal industry. Amongst its members are Peabody Energy, Arch Coal, Consol Energy, BHP Billiton, Rio Tinto, Glencore International and the Chinese company, the Shenhua Group. He responded on their behalf by saying, "We're not denying there are negative aspects from the burning of coal, but the figures people talk about in terms of deaths from coal burning, you have to weigh those against what are the benefits of coal burning."
Catelin's dismissive comment on coal induced deaths comes as controversy grows over the health impacts of coal power stations is increasingly well known thanks to national or regional studies that have been published estimating that the annual death toll from coal burning. Together these studies suggest that the annual death toll from coal power station pollution could be hundreds of thousands of people every year. A death toll that could escalate dramatically if a rapid expansion of the coal power sector is permitted by governments worldwide.
A 2010 report by the Clean Air Task Force estimated that in the United States pollution from coal-fired power plants caused approximately 13,200 premature deaths that year. A similar report from Health and Environment Alliance found that even more people - 18,000 people - die every year in the E.U.. Worse, a Greenpeace report estimated that if every coal plant under construction or planned in Europe was commissioned approximately 32,000 people would die a year. But those numbers pale in comparison to what's happening in Asia.
A Conservation Action Trust, Greenpeace India, and UrbanEmissions report estimated that pollution from coal power stations resulted in 80,000 to 115,000 premature deaths annually. A study published by the medical journal The Lancet estimated that 1.2 million early deaths in China could be attributed to air pollution. While the study didn't specifically estimate the percentage which could be attributed directly to coal burning, the Chinese government has acknowledged that coal-fired power stations are a major contributor to the country's high levels of air pollution. Another study found that a whopping 5.5 years of life were lost for 500 million people in Northern China thanks to coal pollution.
This growing death toll is partly why many are calling coal the new tobacco causing investors to flee this dirty, destructive and deadly energy source. Given Mr. Catelin, and the industry's callous comments and wreckless disregard for human life, the backlash couldn't come a moment too soon.
Bob Burton a Contributing Editor of CoalSwarm, a coal wiki and a director of The Sunrise Project, an Australian group promoting a renewable energy economy. He is also co-author with Guy Pearse and David McKnight of Big Coal: Australia's dirtiest habit (NewSouth Books, August 2013). His Twitter feed is here.
REAL LIFE. REAL NEWS. REAL VOICES.
Help us tell more of the stories that matter from voices that too often remain unheard.