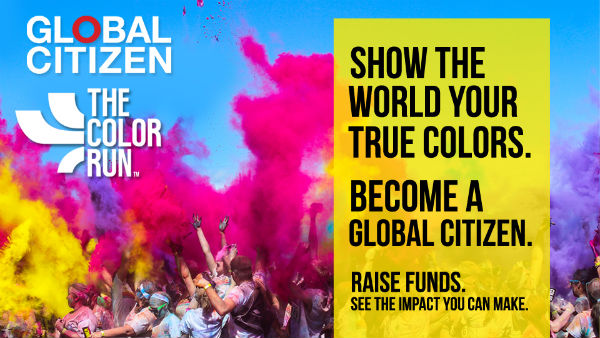 A world without extreme poverty will only be a reality if we -- as Global Citizens -- create and commit to a new global partnership that involves us, charities, companies and governments around the world.
But building these new partnerships is no simple task. It requires timing, purpose, and the right organizations to make it happen; so we can create and encourage partnerships that can engage new audiences that can maximize the movement to end extreme poverty. Ending extreme poverty is a marathon, and we need the support and actions from Global Citizens everywhere if we are to finish this race. That's why we're excited to announce a new partnership between The Global Poverty Project and The Color Run -- founder of the Happiest 5K on the Planet -- that we all believe will help further this movement.
Starting August 17, Color Runners around the country will have the opportunity to not only run in the happiest race ever, but also get involved in the movement to end extreme poverty through GlobalCitizen.org, where they can learn about issues, take actions, and raise funds for non-profits doing amazing work throughout the world. From Buffalo to Nashville to Portland, Color Runners will now have the opportunity to get involved in this global movement.
We know Color Runners want to be happy, healthy and make a difference. Through this partnership, we're able to offer them exactly what they want: a way to engage with important global issues and make an impact long after they cross the finish line.
Once registered for a run, Color Runners are encouraged to sign-up to be a Global Citizen on GlobalCitizen.org, where they can earn points for their participation in The Color Run as well as take other actions such as send a letter to their congressman or share content on their favorite social networks. These points can then be used to win tickets to cool concerts around the country by artists including Beyoncé, Jay Z, Bruno Mars, and Pearl Jam, as well as tickets to the Global Citizen Festival featuring by Stevie Wonder, Kings of Leon, Alicia Keys and John Mayer.
Through the Global Citizen platform, Color Runners will also have the opportunity to ask friends and family to sponsor their run to raise money for leading anti-poverty charities including World Food Program USA, CARE, Malaria No More, charity: water, U.S. Fund for UNICEF and the Cotton On Foundation.
This new partnership between our organizations colors outside the lines of traditional 5K fundraising. We're aiming to pioneer a new way for 5K races and runners to raise funds for great causes while getting involved in the movement to end extreme poverty. Color Runners can use the Global Citizen platform as a vehicle for change, making a global impact at a local level.
Color Runners are Global Citizens. And this partnership gives Color Runners the opportunity to engage in global issues, make an impact on the world and take action to end extreme poverty.
We may be different colors on the outside, but inside we're all the same. So go on, this is your chance to get involved and show the world your true colors. Become a Global Citizen, take action, and see the impact you can make on race day.
Support HuffPost
The Stakes Have Never Been Higher
Related
Popular in the Community