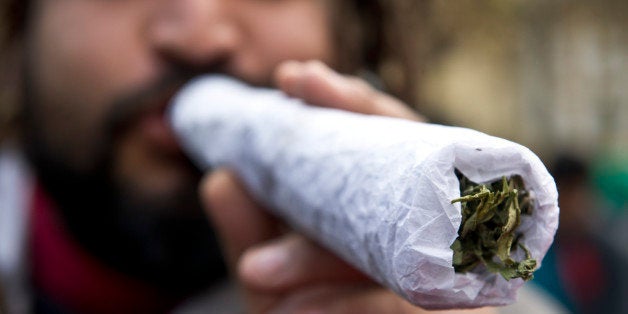 WASHINGTON -- During Prohibition, when booze was briefly outlawed by a constitutional amendment, bootleggers began producing stronger and stronger spirits. The logic was straightforward: If you're selling an illegal product, it might as well be as strong as possible to boost the price and make it easier to ship.
The same logic has driven the pot industry to create stronger and stronger strains of weed. But is that what people want?
As the marijuana industry slowly edges its way out of the shadows, consumers, growers and proprietors are adjusting to the light. Running a business that is against federal law comes with its share of challenges. Market research is one of them.
The Global Drug Survey aims to find the answers to questions that have long gone unasked. This year's version launched this past weekend in partnership with The Huffington Post. The authors of the survey want to hear from people around the world who use cannabis, alcohol, tobacco and prescription drugs -- not with the aim of convincing them to stop, but instead of making the experience happier, healthier and safer.
Marijuana will be a major focus of this year's GDS, which asks users about the effect weed has when they smoke it. Does it make them sleepy or excited? Relaxed or paranoid?
The survey asks users to "describe their perfect smoke," said Adam Winstock, the British psychiatrist and addiction researcher who created the survey, "so we can share that information with weed growers, so they might diversify away from strong skunk weed, which we know from our other research is not what most people prefer."
With the tide of marijuana law reform rising, Winstock said, "what is needed is an understanding of exactly what experience consumers want from the cannabis they use." He hopes his efforts "will inform growers around the world about what people want and to challenge the assumption that potency and preference are the same thing."
The GDS bills itself as the world's biggest annual survey of drug users. Last year, more than 22,000 people took the anonymous online questionnaire.
Because the GDS does not involve a random sample of participants, however, its results cannot be considered representative of any larger population. "Ultimately," the survey researchers report in a lengthy description of their methods, "the only people that this study (like so many others) can definitively tell you about are those who have participated."
People's concerns about privacy can present a challenge even to truly scientific surveys about drug use. Social pressures may drive participants to withhold or suppress their reports of alcohol, tobacco or drug use (although utilizing self-administered paper or online questionnaires, rather than live interviewers, can help mitigate the problem). The premise of the GDS is that it offers participants complete anonymity and it's independent of law enforcement and other government agencies.
Despite the survey's limitations, the GDS researchers believe their findings provide a useful snapshot of what drugs are being used that can better inform policymakers.
"Because drugs are illegal," Winstock said, "people don't talk about them. This means we are limited in what we know about drug use. The solution is to give people the chance to share their experience and opinion anonymously. Better information untainted by government agendas will allow individuals and communities to be accurately informed around the decisions they make."
You can participate in the Global Drug Survey here.
CORRECTION: This article has been edited to change the number of people who took the survey last year.

Calling all HuffPost superfans!
Sign up for membership to become a founding member and help shape HuffPost's next chapter
BEFORE YOU GO
PHOTO GALLERY
Legal Marijuana Across The U.S.