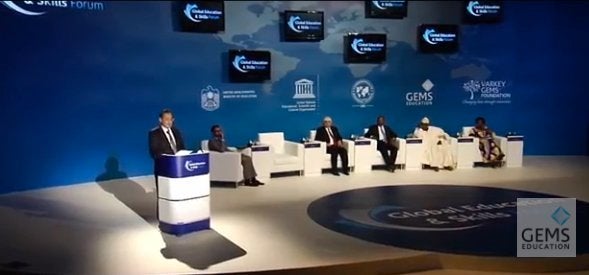 The thing with conferences, especially, those in the education sector, is that the vast majority have turned into sales conferences for suppliers to meet with their customers. Despite the best efforts of organizers to attract good speakers, conference delegates spend most of their time sat in communal areas drinking coffee as opposed to being in plenary sessions, workshops or wherever the conference agenda says they should be.
This is where the inaugural Global Education and Skills Forum differed. It seemed that the theme of public-private partnerships in education resonated with those who attended the conference. Rooms were packed, discussion was rich, practical solutions were being talked about, and most importantly, there seemed to be a real desire to exchange stories of success.
Over 500 delegates from 50 countries attended the conference in Dubai to discuss the global demand for better education.
The Forum, jointly organized by UNESCO, The Commonwealth Business Council, The UAE Government and GEMS Education examined ways to create real, sustainable and scalable change to education systems at global and local levels. A particular focus was on developing an environment that supports effective public and private partnerships, including a regulatory framework that ensures access, quality, relevance and equity in education provision.
According to the Education For All (EFA) Global Monitoring Report, 61 million children of primary school age are out of school and 71 million adolescents of lower secondary school are out of school. Further to this 250 million children of primary school age cannot read and write. It is simply unacceptable and the Global Education and Skills Forum sought to bring those on the frontline of policy making, teaching and NGO's together to form solutions.
In my previous blog, I explored the theme of public-private partnerships for education (PPPE) and discussed much needed 'disruptive forces' to address the global education crisis. I'm glad to say, our esteemed speakers all echoed these sentiments at the Forum. As President Clinton so aptly remarked in his keynote address, we must act now:
"It is projected that by 2050 that 86 percent of the world's children will be living in what are now developing countries. There is no way that governments alone or international aid flows alone will be able to provide those children with the quality of education they need to be full participants in global society. This is especially relevant for women and girls."
The Forum covered topics across the education sectors; including sessions on disruptive technologies, technical and vocational education and equity in education.
We were fortunate to hear from a stellar line-up of speakers ranging from President Clinton, Tony Blair, Olusegun Obasanjo, Shashi Tharoor and several globally renowned figures in education policy. What was really different was that these speakers were genuinely there to tell people about their personal experience in education reform. Take Tony Blair as an example. During his tenure as Prime Minister, the reform programmes he initiated resulted in massive investment into the sector. Delegates, which included several education ministers from Africa, were interested in the challenges he faced and how he won the argument.
It was the first time that people were speaking about public-private partnerships in any detail, and without the baggage that normally comes along to malign the private sector. It was clear that a paradigm shift had taken place where people were willing to consider the merits of discussion with the business sector - not with the profit motive in mind, but more around solutions to accelerate enrollment, to improve equity, and boost literacy & numeracy. We heard from those at the cutting edge of innovation, as well as those who struggled with change programmes.
Finally, and most importantly, I learnt a thing or two at this conference. I know it sounds odd, but there's so much dreary mediocre stuff out there, and equally, there are so many events nowadays that the output of these things seem to simply blend into one big grey cloud of ambiguity. Refreshingly, this wasn't the case at this conference. I found speakers stimulating, informative, and thought provoking - just as they should be.
As a professional conference go-er, the Global Education & Skills Forum reminded me very much of the World Economic Forum's Annual Summit in Davos for its professionalism, and high caliber of delegates. There's an absolute need in the education sector, and this event is destined to fill that gap. If I were you I would ink next March into your diary right now, as this is when the Davos of education takes place next year.
REAL LIFE. REAL NEWS. REAL VOICES.
Help us tell more of the stories that matter from voices that too often remain unheard.