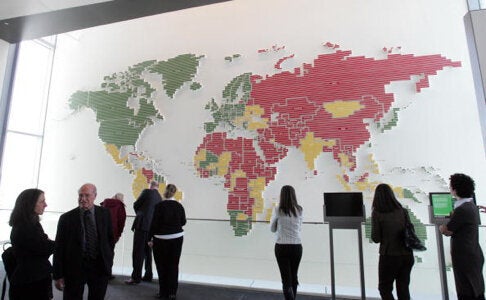 If you are like me, when you look around at the world you are leaving to your children, you see plenty to worry about: ever more threats to security, fears of fiscal default, bigger gaps between rich and poor, more pockets of public discontent and declining standards of education.
But today, at the launch of the world's largest celebration of the promise of human endeavor, I feel nothing but hope. Yes, there are parts of our worlds that are receding or even collapsing, but there are far more new ways of doing things that are going to scale.
Today, Global Entrepreneurship Week (GEW) kicks off with nearly 41,000 events and activities and an expected 10 million participants -- all planned over the next seven days in 123 countries. Among those, GEW has a number of competitions where creative minds turn their ideas into real-life ventures, including: Startup Open, which identified some of the most promising new startups from 60 countries; the Cleantech Open Global Ideas Competition for the best new green firms in 22 countries; Meet the Dragons with finalists from eight different European countries vying for €1,000,000; and Startup Weekend boot camps in 60 cities around the world. There are also thousands of small events in classrooms or under village trees, as well as larger scale events in football stadiums where entrepreneurship will meet music and sports. We will hear speeches by many heads of state, talks by entrepreneurs and thousands of pitches from teams of people with ideas and drive raring to go.
This appreciation for the impact of entrepreneurship is not limited to grassroots networks and has expanded beyond the "startup economies" of the world. According to the World Bank, the majority (66 percent) of developing economies reformed business regulation in 2010 -- suggesting widespread effort around the world to build environments conducive to business creation and growth. The increasing availability of research and data from established sources such as the World Bank and the Kauffman Foundation are creating a race to offer the best startup ecosystem and to be the "easiest economy for doing business." For example, the latest Global Innovation Index showed that Switzerland tops a list of 125 economies around the world as the most innovative -- up three spots from last year's rankings. The other top five predictably include: Sweden (2); Singapore (3); Hong Kong (4); and Finland (5). However, you will find other new entrants fighting to build a stronger ecosystem such as Kazakhstan, which improved business regulation the most in the past year, according to the World Bank's Doing Business project.
Such attention is hardly surprising. New firms are indeed the greatest source of new wealth for struggling economies and a powerful weapon against poverty. And not only are young firms the source of most new jobs, they also disrupt existing industries, forcing older firms to remain on their toes -- or wither away. What is turning out to be especially potent, however, is the enormous promise they hold for innovating us right through the world's toughest problems.
You only have to look to the state of the European economies to recognize that the developed world has become as unpredictable as its underdeveloped neighbors. But today's globally networked, creative, open and yet adaptable generation is not only comfortable with such constant change, it thrives on it. They are not an angry movement of dissent, but a "glass half full" movement of promise. The predictable linear world ruled by institutions is being challenged for its cumbersome pace and being gently led to a new frontier by a cacophony of informal networks across national boundaries -- porous to new ideas and the startup ecosystems that bring them to life.
What Global Entrepreneurship Week is showing us is that these nascent entrepreneurs are already wired to think across borders and increasingly have more in common with each other than their own cultural elders.
History is full of writings about new generations with new ideas and promise. However, what makes this revolution exciting is that its thinkers and dreamers plan to use the marketplace to bring their ideas to life -- and that is just fine with their peers.
Their passion and creativity is therefore firmly directed toward new economic growth, for it is these individual firms' growth, or failure, that will drive the collective fate of our economies.
Other recent developments to nurture and support such a global network of new firm founders includes the recent launch of the Kauffman Global Partners Network (KGPN), a new initiative to attract and support entrepreneurs in their ventures through developing incubators, accelerators and other programs that validate and mentor ideas and provide access to markets, people and capital. There is also the rapidly growing Global Entrepreneurship Congress -- scheduled for March 12-18, 2012 in Liverpool, UK -- where already more than 120 nations have confirmed their best and brightest minds in the startup space for one week of collaborative discussion on everything from smart research and public policy to building stronger startup ecosystems.
But for now, all eyes are on Global Entrepreneurship Week because, despite all the recent startup fever, the planet still needs more entrepreneurs. Global Entrepreneurship Week offers a glimpse of new firm formation as a team sport and provides opportunities to meet potential collaborators on ideas, mentors and even investors. It welcomes top-down leaders into the exciting and optimistic worlds of their most creative and inventive citizens and shares ways they can make their path easier.
Best, it offers all of us the chance to explore whether, at some point in our careers, we too might give birth to an idea, and,who knows, perhaps even make a job--or many jobs--for someone else. It gives all of us a glimpse of ourselves controlling our destiny and closer to leaving our kids a better world.
To find out more about how you can get involved, visit www.unleashingideas.org or to find something specific to do in the USA, visit www.gewusa.org.
Jonathan Ortmans is president of Global Entrepreneurship Week and a senior fellow at the Ewing Marion Kauffman Foundation.
Related
Popular in the Community