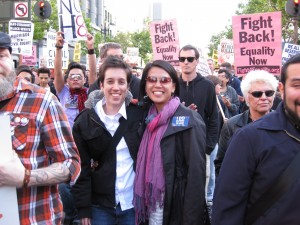 Being from San Francisco, Jenni and I lived comfortably in the "gayborhood," where one can almost live in a straight-free world. Not only do we have a world-renowned list of gay bars and gay restaurants, but we also have gay sports teams, gay churches, gay businesses, gay book clubs, gay toastmasters, gay knitting circles, and even a gay traffic school.
Why do we need so many organizations for the LGBT community? Because living in an imperfect world, we face stress as members of a minority group and often lose the support of our given families. Coming together affirms our relationships and our sense of identity while also reiterating our power as a group that deserves full equality.
While traveling around the world into developing countries for our project Out and Around: Stories of a Not-So-Straight Journey, we've seen how isolated people can feel in countries where homosexual acts are a crime, or where there is little visibility. We've learned that a little affirmation goes a long way. Here are 10 ways we can all help.
10) When you travel abroad, visit the local LGBT Center, if there is one.
Learn about the social services and supports being offered. Donate queer-themed books, documentaries, and magazines with LGBT topics to add to their library. In Nairobi we visited the Gay and Lesbian Coalition of Kenya. Their resource center is the only place for gay Kenyans to read queer media without worrying that someone might catch them out in public.
9) Go to the local gay bar.
Go not just to find a hot hook-up but to meet local LGBT individuals and learn about their lives. You'll find that they'll be quite curious about your life in your home country, as well. Ask for their advice on what you should see while you visit. In Bali we realized that gay bars are quite similar no matter where you are in the world: lots of Lady Gaga, cheap 2-for-1 cocktails, and of course drag queens, drag queens, and more drag queens.
8) Go on a gay vacation and be visible.
Now there are many queer travel companies. Our favorite is Sweet, directed by Supergay Shannon Wentworth. Their vacations take queer women to other countries with the option of doing volunteer work with local communities. The locals have an opportunity to directly meet gay and bisexual women and witness their contributions. Check out our video featuring a news clip from Belize discussing the time Shannon brought a cruise ship full of women to paint a local school.
7) Plan your vacation around a Pride Festival.
We weren't able to do this for our own trip, but we would have loved to see Shanghai Pride Festival, Croatia's first Pride Parade, or Cambodia Pride. These festivals are historic events and part of our global gay heritage. You can say that you were there.
6) Come out, come out, wherever you are.
We know how hard it is when you are faced with the dreaded question, "Do you have a husband?" It's certainly more comfortable to skirt around the issue. But you may be missing an opportunity to positively change one person's perspective on gays. Provided that you feel that your personal safety is not compromised, challenge yourself to come out and educate others. You certainly will not be the last LGBT individual who will travel to their destination.
5) Use your voice to take action when called upon.
Sign up for AllOut, an online community able to respond to moments of crisis and opportunity and to advance the lives and freedoms of LGBT people -- everywhere. You'll receive action alerts letting you know when a few clicks on your laptop can make a difference in advocating for gay rights.
4) Financially contribute.
A dollar goes a long way in the developing world. The entire budget of Shanghai Pride this year came to $2,500 USD, and organizers struggled to raise the money. Just to give you a comparison, San Francisco Pride's budget was $3 million USD. No gift amount is too small.
3) Stay at gay-owned accommodations.
When we traveled to Siem Reap in Cambodia, one of our favorite discoveries was the gay-owned Golden Banana hotel. We stayed there because we wanted to support this local gay business. Not only were the staff gay-friendly (most were LGBT themselves), but the place had the best ambiance and decor that only a gay man could create. The website Purple Roofs lists gay-owned and gay-friendly travel accommodations around the world.
2) Encourage LGBT organizations to adopt sister organizations abroad.
Jenni and I met while participating on the AIDS Lifecycle, a week-long cycling event that raises money for the L.A. Gay and Lesbian Center. They fund an internship program for Chinese activists to come to L.A. and work with their staff. We met several Chinese gay activists while on the Lifecycle, including Supergay Shanghai Organizer Dylan Chen, who told us how much his time in L.A. has inspired him to fully devote himself to the LGBT movement in his home country.
1) Educate yourself about conditions for LGBT individuals in other countries.
Yes, we all live in a bubble. I'll be the first to admit that when I used to pick up copies of the Bay Area Reporter, San Francisco's gay newspaper, I would always be more interested in articles about the trendiest new clubs rather than those about international affairs. But, it is so important to stretch your worldview and awareness. Jenni and I enjoy the time we spend researching each country and learning about how culture, religion, and societal norms impact personal freedoms. So, learn as much as you can, and spread the word.
Calling all HuffPost superfans!
Sign up for membership to become a founding member and help shape HuffPost's next chapter