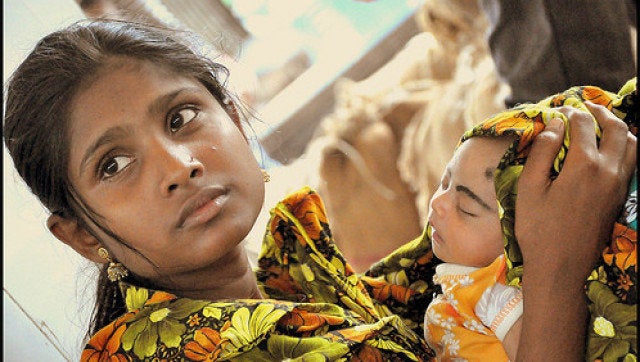 Today, 25,000 girls got married. All of them were under 18 and most had no say in when or who they would marry. The overwhelming majority will drop out of school if they haven't already. This is not acceptable.
Early marriage and pregnancy among teenage girls is common in developing countries -- a product of tradition, economic scarcity, lack of opportunity and deeply-rooted gender bias. As Global Director for Girls' Education at Room to Read -- a non-profit organization dedicated to improving education for millions of children across Asia and Africa -- I have witnessed firsthand how early marriage and pregnancy affect the lives of teenage girls in places like Nepal, Bangladesh and Zambia, further limiting their options in communities where the roles for women are already extremely circumscribed.
Studies have shown education to be the single most important predictor of age at marriage, a number that can mean the difference between life and death. According to research done by the International Center for Research on Women, pregnancy (often preceded by early marriage) is the leading cause of death for young women between the ages of 15 and 19 worldwide. By missing out on the completion of their formal education, many young brides lack the knowledge of how early pregnancy affects their health, when and how to obtain medical care, and the emotional maturity to actually seek it -- skills more likely to be developed during adolescence.
Through our work in girls' education, Room to Read provides support for girls at their most vulnerable phase -- in the transition to adulthood -- so that they can reach key milestones like marriage and pregnancy later in life and from a more powerful place. We also work with families, communities, and schools to foster a more empowering environment.
I have seen what happens when a girl from a disadvantaged background is supported to stay in school and develop the skills she needs to make informed choices. The results are truly transformational.
As girls build confidence and academic success, it is not only those around them that begin to recognize their worth. The girls themselves develop the confidence to see a broader set of options for their lives and the agency needed to build a brighter future.
One of my favorite examples is Esther, a student from a very rural region in Zambia where teenage pregnancy is widespread. She told me when we met that she wants to be a lawyer and motivational speaker. Esther's experience in secondary school combined with the life skills training she has received from Room to Read have given her the confidence to stand up for her own right to education and to advocate for the other girls in her community.
When she is out of school and on breaks, Esther goes back to her village -- quite a distance from her boarding school -- and talks to her friends about their futures. Most of her contemporaries did not make it to high school and many are at high risk for early marriage. "I tell them not to just go with marriage but to think creatively about their options -- there is no rush!" she counsels. Esther's friends listen to her, she says, and she is proud to help them expand their thinking. It seems to me that Esther need only work on the law degree, as her career in motivational speaking is already in full swing!
Esther's story is a perfect example of the potential that is unleashed when a girl is afforded the opportunity to stay in school and develop her own voice. While early marriage and pregnancy manifest differently depending on regional, class, and cultural contexts, the crippling effect they have on the lives, health, and livelihoods of millions of women across the world is unquestionable. It is incumbent upon the international community to stand alongside girls and young women on this issue that is so widespread and gender-specific. If we provide support and a platform to Esther and the hundreds and thousands of girls like her, then together we will turn the tide on the practice of early marriage within our lifetimes.
Popular in the Community