Just days before the Oscar acceptance speeches are made and the Academy Awards red carpet is filled with celebrities, the more eco-minded celebs turn to the green carpet at Global Green USA's 8th Annual Pre-Oscar party. At the Avalon Hollywood, the event helps raise funds and awareness for Global Green's national initiatives to fight climate change.
More than 1,400 people attended the star-studded pre-party featuring musical performances by Black Rebel Motorcycle Club, Best Coast, and Portugal. The Man.
Also, for the second year, at the start of the green carpet made of synthetic grass, the Chevy Volt electric vehicle was plugged in and leading the cat walk. Some of the celebrity guests were driven to the event in Chevy Volts like Alison Brie (pictured below and seen in Community, Mad Men and the soon-to-be-released Scream 4) and Maggie Grace (Lost, Taken, and Irina in the upcoming The Twilight Saga: Breaking Dawn) among others.
Other celebrity supporters in attendance included Academy-Award-winning director James Cameron and wife Suzy Amis Cameron, Dennis Haysbert, Elisabeth Rohm, Enrique Murciano, James Van Der Beek, Frances Fisher, Daphne Zuniga, as well as Oscar nominee Lucy Walker (Wasteland).
While chatting with the different guests I asked what each of their 2011 Green Resolutions were and received the following responses:
"To get rid of my hybrid and get an electric vehicle," said actress Elisabeth Rohm (Law & Order, Heroes).
"Educating myself more and getting involved on a bigger level. Yeah, my resolution is to actually put in the time to read up on the solutions that are out there and the different legislature," said new dad James Van Der Beek (Dawson's Creek).
"I don't think we made a resolution, but just not being shitty," joked Ryan Neighbors, vocalist from Portugal. The Man. Fellow band member Zachary Carothers added, "I recycle my beer cans, and when I wash my hands I don't use paper I just wipe them on pants."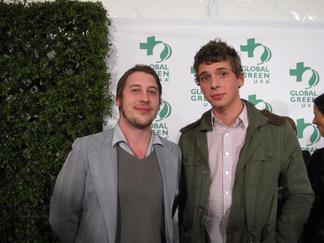 "My green resolution is to continue to wear this fabulous eco tux of mine. It's made out of recycled audio cassette tape, recycled dress shirts and organic wool. And I also vow to order less takeout, being a single dad I end up getting takeout a lot and I want to try to cook more at home for my son," said Matt Petersen, President and CEO of Global Green USA.
"I don't know if I have one, but if I did it would be to continue doing what I'm doing; I have solar panels, I changed my light bulbs over. I guess my resolution would be to get a green car that I can stomach," shared Dennis Haysbert (24, Major League, All State commercials)
"Work harder at curbing my habits, I'm an environmentalist and I think and breath this all the time, and I still find myself having short-steps inasmuch as what I can do -- I drive a hybrid, I'm very conscious of my electrical use, I try not to use the dryer," said arctic adventurer, photographer, and environmental activist Sebastian Copeland.
During the event, Global Green also unveiled their Model Carbon City Index tool, basically a smog test for cities. Los Angeles is the pilot city for the Index and unfortunately scored a C- for it's adoption and implementation of policies related to greenhouse gas emissions reductions.
"Cities account for 70% of carbon emissions worldwide. The Carbon City Index will create an engaged group of activists that hold public officials accountable for their city's carbon emissions and drive lasting and impactful greenhouse gas policy changes across the U.S.," said Matt Petersen, Global Green's President and CEO.
For the past seven years, Global Green has collaborated with the Hollywood community to raise global awareness of Smart Climate Solutions -- from celebrities driving green cars to the Oscars, to creating affordable green homes and schools, buying green products, and voting for green political leaders. Global Green is the only national environmental group headquartered in Southern California and has offices in New Orleans, New York City and Washington, DC. For more information, please visit www.globalgreen.org.
Related
Popular in the Community