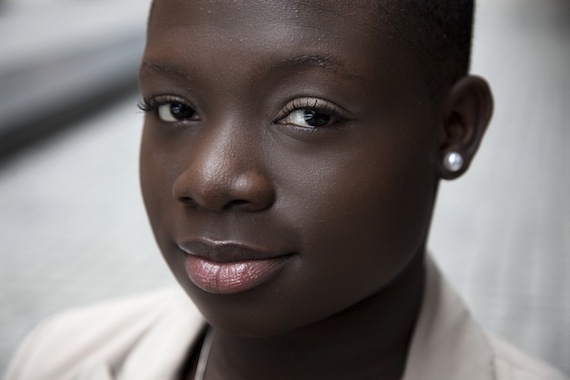 Sabienne Brutus, photo courtesy of Julie Hassett-Sutton/Frantic Studio via Global Kids
As a freshman in high school, I was placed in the High School for Global Citizenship (HSGC), which was created with the help of Global Kids. As a result, I joined several of the Global Kids after-school programs and stayed throughout high school.
The Global Kids mission was integrated into our school. So students not only got the general high school education, but also an awareness of issues happening in our community and in the world.
I was born in Brooklyn but spent the first ten years of my life in Haiti, so I was coming from the Haitian schooling system where, if the teacher says, "Jump," you ask, "How high?" But at HSGC, a lot of lesson-planning resulted from the students' input. Participation was encouraged, which was something I had never experienced.

At Global Kids, there's certainly a focus on getting students to meet academic goals, and also teaching them public speaking and leadership skills. Students are not just sitting in a corner shouting out answers. You work in pairs and larger groups. You do a lot of role play. You have to express your opinion about an issue. Then you get in front of everyone and make a presentation. Global Kids made this process seem normal for us, which gave us confidence in any situation we encountered.
Being in Global Kids for four years and being passionate about all local and global issues, I knew that I wanted to study either political science or international relations in college. Tufts University had a great reputation for international relations, so I applied. I was accepted and I received scholarships and grants from New Visions and Tufts, covering my full tuition. I ended up studying both political science and international relations.
Once I got to campus, it felt like I was in a different country. Many students were from a different socioeconomic background than I was. The first year was difficult. I felt like being part of Global Kids definitely helped me stay in college, not only because I was always updating my Global Kids trainers about my time at Tufts, but also because of all the skills that I had acquired. It was how I was dissecting the information and being confident in knowing that this is new to me but with practice, in a few years, I'll get the hang of it.
When I got to college it didn't matter what we were talking about. If it came down to an issue I knew before, great. But if it didn't, it was still fine, because I had enough practice that I would listen and then I could stand in front of a classroom and voice my opinion.
Popular in the Community