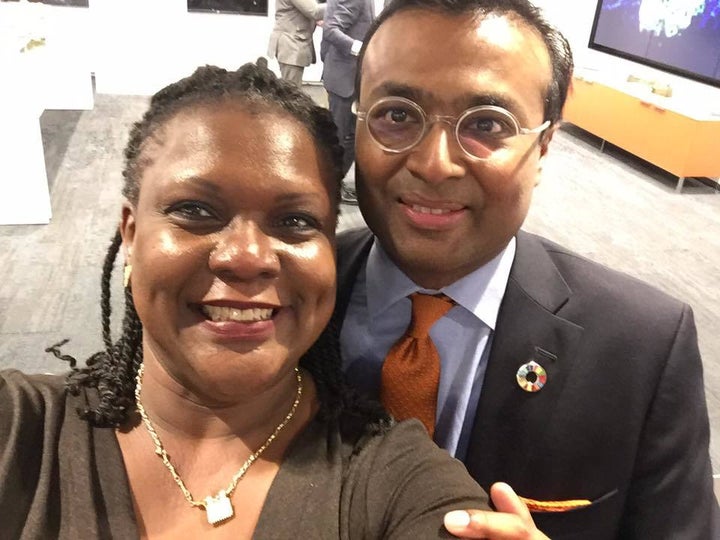 "We hope that Korea and Latin America will share their vision and wisdom in the era of the fourth industrial revolution and lay the foundations for common prosperity through this forum," Yoo Young Min, the Republic of Korea's Minister of Science & Information and Communications Technology, said earlier today at the ITU Telecom World 2017.
The world's largest private-public Information and Communications Technology (ICT) exhibition organized by the International Telecommunication Union (ITU), an ICT organization under the United Nations, comes a day after the 3rd Korea-Latin American ICT Ministers Forum attended by ministers from Korea and 13 countries of Central and South America and the Caribbean region.
Led by Euvin Naidoo, Head of Financial Institutions - Africa at Thomson Reuters, an impressive group of panelists and industry leaders participated in A Discussion on the Investment Landscape in Africa last week in association with the United States Chamber of Commerce Africa Business Center. Addressing Africa's burgeoning investment and business opportunities, unmatched agricultural potential and rapidly growing consumer markets, Naidoo was one of many on the long list of panelists and guests deserving of being highlighted.
Entitled Global Leadership: African & American Leaders of The 4th Industrial Revolution, this series of profiles highlights the achievements of Naidoo, panelists and guests of A Discussion on the Investment Landscape in Africa for being exemplary models that practice world-class judgement and offer ingenious solutions in the spirit of advancing, and owning, the concept of The 4th Industrial Revolution - #AfricasValue.
As former president of the South African Chamber of Commerce - America, Euvin Naidoo has worked with leading corporations and governments to strengthen Trans-Atlantic economic ties. Currently Head of Financial Institutions - Africa with Thomson Reuters, Naidoo is a global leader equipped with facts, figures and a innovative vision and outlook on the 4th Industrial Revolution.
Well versed in articulately conveying a nuanced picture of Africa on a macro level, one that is diverse and full of potential, with stabilizing economies and business growth, Naidoo offers persuasive arguments as to why the continent's challenges should be reframed as opportunities, and why investing in Africa can make great business sense.
A third-generation South African, Naidoo was selected by Forbes.com in 2011 as one of the African continent's Top 10 most 'Powerful and Influential Men' of his generation, Euvin has been engaged as an executive within financial services in both the USA and Africa for the past 15 years. Prior to coming on board to spear head Thomson Reuters Financial Institutions business across Africa (current role), Naidoo was part of the African leadership team at the Boston Consulting Group, joining as the first South African Partner and Managing Director based out of the Johannesburg office, where he led the Africa Financial Institutions (Banking and Insurance) and Public Sector (DFIs, Treasury and Central Banks) Practices.
Naidoo's personal focus and work is on digital innovation and transformation within banking and insurance incorporating the themes of risk, customer centricity, agility, automation, financial inclusion, development of capital markets and the implications of the 'Fourth Industrial Revolution' on financial services organizations, staff, stakeholders and customers. Like Benioff, Naidoo also focuses on 'Sales Force Effectiveness' and the organizational changes needed to drive the delivery of bottom line impact at scale for banks, asset managers and insurance companies.
Honored in Boston this year by receiving the Harvard Business School 2017 Africa Leadership Excellence Award, at the annual Harvard Africa Conference in February, Naidoo was also recognized by Columbia University's Journal of International Affairs for his work, and impact across Africa, earning him the title of one of the 'Five Faces of African Innovation and Entrepreneurship.'
Key Awards & Recognition
Selected forbidden Forbes List of Top 10 Youngest Powermen in Africa ' | McKinsey Release: Euvin Naidoo Young Global Leader, World Economic Forum | TED Global Opening Speaker | Columbia University's Journal of International Affairs Profiles Selects Euvin Naidoo and Mo Ibrahim as Faces of African Innovation and Entrepreneurship | Euvin Naidoo makes TrendHunter's List of Top '15 Keynotes on Investing "from around the world | Opening Keynote Address, 2013 Oxford Africa Conference, Oxford Union, Oxford University | World Economic Forum on Africa, Panel Moderator and Session Chair: Mapping the African Growth Landscape | 2012: Selected as one or Africa's Rising Stars- closing plenary, 2012 World Economic Forum on Africa ' | Honored by being elected 'Executive in Residence, Wits Business School | BBC News speaks to "Africa Business Gurus. Profilings focus on Africa thought leaders | Euvin Naidoo Profile on Forbes.com: SMEs, Entrepreneurship and Innovation in Africa | Future of Electricity in africa- World Economic Forum on Africa, 2014: Moderator and Reviewer Report | Profiled in Wits Business Journal Management: Business Leadership in Africa
World Economic Forum Bio
LinkedIn Profile
Twitter
TED Talk [VIDEO]
CNBC Africa: Developing Africa's capital markets [VIDEO]
Popular in the Community