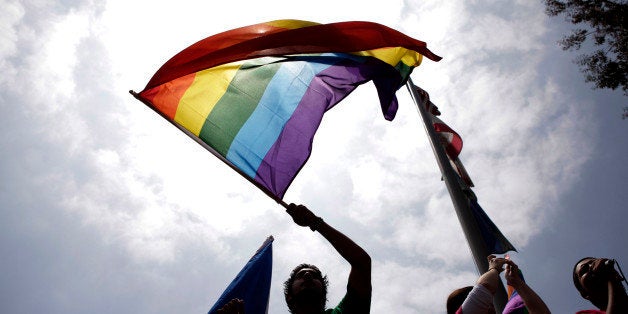 In cooperation with our longstanding partner Crowdrise, The Huffington Post is celebrating its 10 year anniversary by focusing on the promise of the next 10 years. We're highlighting causes that are near and dear to our ethos -- causes where we believe meaningful progress can be made in the coming decade -- and empowering readers to act and take part. Join us!
It's still early days for the LGBT rights movement.
Over the course of the past decade, public opinion has changed in ways that might have seemed unimaginable a generation ago. New, more tolerant laws are on the books in many countries. But advocates who focus on the global picture of LGBT rights say the movement is still in its infancy.
Charles Radcliffe, a human rights adviser on sexual orientation and gender identity at the United Nations, notes that the women's rights movement has been pushing for change for more than 120 years. Most of the advances for LGBT people have come in the past decade.
"That doesn't mean it's necessarily going to take another 100 years. But it does mean the battle isn't over, and in some countries it's barely begun," Radcliffe told The Huffington Post this week. "A lot of work lies ahead to challenge oppressive laws, demand proper legal protections and to change people's hearts and minds."
A glance at a world map put together by the International Lesbian, Gay, Bisexual, Trans and Intersex Association shows how much work remains to be done around the world. As of May 2014, more countries criminalize LGBT people than protect them from discrimination. Seventy-eight countries still put people in jail for being LGBT, and five countries, plus parts of Nigeria and Somalia, have laws that put LGBT people to death. Only 70 countries have introduced or codified anti-discrimination laws.
Jessica Stern, the executive director for the International Gay and Lesbian Human Rights Commission, says her organization's strategy is to invest equally in LGBT trouble spots like Iraq (where the Islamic State is reportedly executing men for sodomy) and in nations where equality is gaining traction, like the Philippines (whose government is debating the specifics of an anti-discrimination bill).
"You have to work in the places that are most unsafe," she said. "But you also have to push the bar higher, because pushing the bar higher benefits all of us."
Looking ahead to the next few years, Stern said she hopes for the worldwide decriminalization of sodomy, and for more laws that ban discrimination and promote marriage equality. She also hopes to see an increase in support for transgender and intersex people, who have often been overlooked in the global LGBT rights movement.
"I think we have to take very seriously the inequalities within our movement," she said. "People's lived realities play out quite differently [depending on] whether you live in an urban or a rural area, whether you have a high level of education or you're illiterate, whether you're a member of the dominant religion or a minority. We won't progress as far as we dream of as a movement unless we take equally seriously the safety, equality and liberation of everyone."
Radcliffe and Stern both see many reasons to feel hopeful. Not only are LGBT people more visible than ever, Radcliffe said, but global momentum is behind them.
"When you see more than 80 countries coming together at the U.N., as we have, to denounce attacks on LGBT people, and when you see the U.N. secretary-general leading calls for change, then you've reached critical mass," he said, referring to a 2011 joint statement by 85 countries that denounced violence based on sexual orientation and gender identity. "There's no turning back from here."
Supporting the causes that will shape the next decade
Calling all HuffPost superfans!
Sign up for membership to become a founding member and help shape HuffPost's next chapter