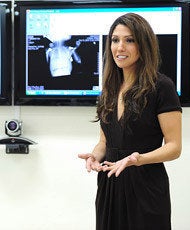 This post is part of the Global Mom Relay. Every time you share this blog, $5 will go to women and girls around the world. Scroll to the bottom to find out more.
Two years ago this month, I was sitting on a porch outside a doctor's office, with a mother who was waiting to bring her daughters in for an exam. I was in a mountainous area outside of Chiriqui', in Panama, traveling with some of the doctors who do the amazing and tireless work for our Lopez Family Foundation.
We had traveled down to Panama to see if we could partner with a children's health center there to expand medical care and availability to the more remote areas of the country. When the indigenous people in that rural area need to see a doctor, they often have long walks down a mountain, to a small doctor's office or clinic location. They are seen by a physician from an urban area who gives a few hours of his day, two or three days a week, to see and treat those who need it.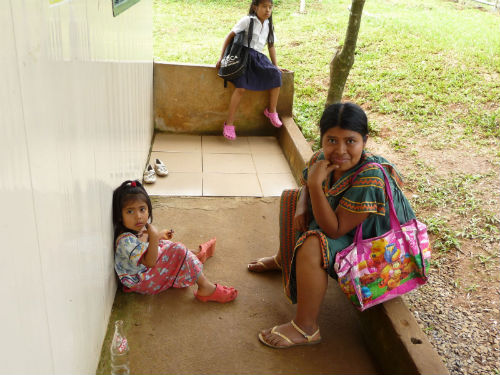 I was told to expect primitive clinics and minimal availability to care, but I don't think I was quite ready for what that would look like -- or how it would stay with me. As we drove through these remote areas, in 90 degree heat, I saw clinics that were essentially two-room shacks -- one had no electricity that day, one didn't have its plumbing working -- and each was staffed by a doctor who would be gone by about 1 o'clock that afternoon, not to return for several days.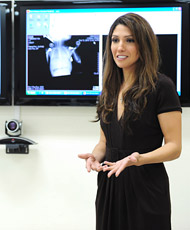 At one, I saw a very sweet looking woman sitting outside, in indigenous dress, waiting there with her two little daughters -- worry as well as kindness in her face. I sat down and asked why she was there. Both of her daughters were sick, she told me, the older with a cold, but the little one had a cough that had gotten so bad over the past several days that she feared something might be seriously wrong. It was almost time for the doctor to leave, so she also worried that she had made the trip to the office, and her daughters wouldn't be seen that day -- that she would have to wait until the next time he came back to get an exam. She didn't have a good idea of what she should do, if she didn't see the doctor and in the next few days her daughter got seriously ill.
I had never, until then, felt so powerfully connected to another mother. Her little one was about the same size as my daughter, though mine was two years old at the time, and hers was four. I couldn't imagine traveling, trying to get a doctor's care for my girl, and simply not being able to get it. The concern and fear she tried to mask was something that anyone who has seen their child ill could instantly relate to. It was more than I wanted to imagine that mothers and babies, exactly like these, were not getting medical care they needed when they needed it.
Nothing had brought home for me, more immediately or movingly, why improving the lives, health and well-being of women and children around the world is one of the most important tasks we face today. I was fortunate to have access to good healthcare while I was pregnant and had a wonderful introduction to motherhood, including easy access to health information and advice. But many mothers around the globe simply do not have the same luxury.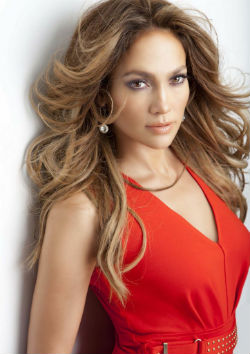 This is one of the reasons my sister Jennifer and I wanted to start our work -- to bring telemedicine technology to areas like the one I visited. And it's a goal we share with one of the programs in our Global Mom Relay -- the Mobile Alliance for Maternal Action (MAMA). MAMA is also putting modern technology to great use. They provide text messages that make it possible for mothers in the developing world to receive regular medical advice on their mobile phones. For women like Asha Rani in Bangladesh, following these messages helps her to take care better care of herself and her baby. In essence, it puts the power of health in the palm of her hand.
We're honored to be co-chairs of the Global Mom Relay to help raise awareness about this, and other innovative ways to help pregnant women and mothers everywhere. We hope you will be inspired by our interview and share it forward to unlock a $5 donation. It may not sound like a huge sum, but $5 provides a mother like Asha with six months of mobile health messages to guide her throughout pregnancy and her baby's first year.
P.S. Regarding the video, no, Jen and I do not always sit around in couture! We were fortunate to do this interview while we were attending a charitable event and hope we can continue to help raise awareness about important causes like this one.
Each time you share this Global Mom Relay piece on Facebook, Twitter, or Email, or donate $5 or more through clicking on the above graphic, a $5 donation (up to $62,500 per week or $125,000 every two weeks) will be donated by Johnson & Johnson and the Bill & Melinda Gates Foundation to the Mobile Alliance for Maternal Health (MAMA). Join us by sharing it forward and unlock the potential for women and children around the globe. For more information, visitwww.unfoundation.org/globalmomrelay. The United Nations Foundation, Johnson & Johnson, BabyCenter, The Huffington Post, and the Bill & Melinda Gates Foundation created the Global Mom Relay, a first-of-its-kind virtual relay with a goal of improving the lives of women and children around the globe.
Related