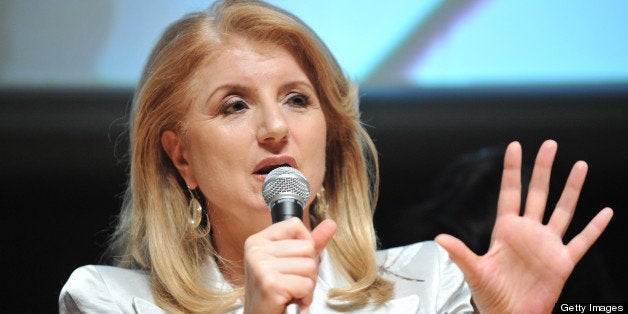 Sunday is Mother's Day, one of the year's high points of gratitude. So as we honor the mothers among us (and those no longer among us), there's no better time to tap into that gratitude and draw on the qualities that make mothers such a force for good -- their generosity, their nurturing, their unconditional love -- in order to improve the lives of mothers and children around the world.
There is no love more intense than the love we have for our children. Consider the story of YingYing Shang, who recently wrote on HuffPost about her own mother, whose insistence on the importance of "schooling and re-schooling" was a constant in YingYing's life, as her mother worked and struggled to lift them out of poverty and a life of dingy apartments, beat-up mattresses and cockroaches that roamed the kitchen at night.
"Because of my mother," YingYing writes, "it has always seemed self-evident that girls were strong and could do anything they set their minds to, as long as they were given the chance to get an education. Unfortunately, many girls in the developing world living in situations much worse than my roach-infested kitchen and dumpster mattress are never afforded that opportunity."
That's why today we're putting the spotlight on two ways to bring new opportunities to as many women and children around the world as possible. On March 8 -- International Women's Day -- we began the Global Mom Relay, joining with the United Nations Foundation, Johnson & Johnson, BabyCenter and the Bill & Melinda Gates Foundation. The effort supports UN Secretary-General Ban Ki-moon's Every Woman Every Child initiative that aims to save the lives of 16 million women and children by 2015. And there's still time to join the Relay -- it remains open through Thursday.
If there is any doubt as to the importance and urgency of this effort, here are a few statistics:
Nearly seven million children under the age of five died in 2011 from preventable diseases.
Every two minutes, a woman dies from complications related to pregnancy.
Every year one million teenage girls die or are injured because of pregnancy or childbirth.
Medical complications from pregnancy and childbirth are the leading cause of death among girls ages 15-19 worldwide.
Approximately 82 percent of teenage pregnancies are unintended.
And here are some statistics on ways social media and engagement can have a direct impact:
Seventy-five percent of moms say they have used social media to promote a charitable cause.
Eighty-two percent of moms would be more likely to do so if they knew their contribution could result in a donation to support families in need.
The Global Mom Relay strives to make an impact in two ways: by telling stories of motherhood, and by harnessing the power of social media to make a tangible difference in women's lives.
In the course of the Relay, we've heard a range of voices: Paralympian Dennis Ogbe, who contracted polio at age three and fondly recalls the way his mother encouraged him to succeed anyway; Christy Turlington Burns on the power of cellphones to provide prenatal care and connect pregnant women with health care providers; Elizabeth Gore on the potential dangers of American complacency when it comes to health, safety, and our children's future; Lynda Lopez on how becoming a mother gave her a feeling of connection with mothers across the world; Queen Rania of Jordan on the spirit of sisterhood and camaraderie that links Arab women; Ugandan mother of eight Milly Businge on how parents can be the agents of change in their children's lives; and Lisa Belkin on the best parenting advice she ever received.
The stories themselves are just the beginning. Each time you share a Global Mom Relay post, a $5 donation is made by Johnson & Johnson and the Bill & Melinda Gates Foundation. Those donations go to four initiatives that are helping improve the lives of girls and women: Girl Up, helping the millions of adolescent girls in developing countries go to school and get medical care; the Global Alliance for Clean Cookstoves, a public-private partnership that uses household cooking solutions to empower women and protect the environment; Mobile Alliance for Maternal Action, which helps mothers in poverty access health information with mobile phones; and the Shot@Life campaign, which advocates for vaccines that can save lives in developing countries.
So far, we have had 85,119 shares, equaling $425,595.
As the Global Mom Relay comes to a close, several of the women who helped power the Relay are gathering for Mom+Social at the 92nd Street Y in Tribeca.
Hundreds of women -- and men, too -- will be there to start conversations about their work on behalf of women and children worldwide, including the UN Secretary General's wife Mrs. Ban Soon-taek, Glamour editor-in-chief Cindi Leive, Jennifer and Lynda Lopez, UN Foundation President Kathy Calvin, Johnson & Johnson VP of Corporate Citizenship Sharon K. D'Agostino, BabyCenter editor-in-chief Linda Murray, pediatrician Dr. Harvey Karp, and Girls Who Code Founder Reshma Saujani.
It's all about bringing together the power of motherhood and the power of social media. We're also live-streaming the event, and Lisa Belkin will be moderating a conversation about health solutions for mothers and babies around the world. And we hope you'll add your voice by using the hashtag #globalmom to keep the conversation going.
My support for these two initiatives is deeply personal. More than anyone else I've ever met, my mother was driven by a need to care for those around her. She had a gift for cutting through hierarchies and bringing people together, in ways that were often unpredictable and always memorable. And that's exactly the spirit we need now when it comes to improving the lives of women and children around the world.
So, Happy Mother's Day, and we hope you'll join us as we tap into our empathy, our creativity, and our gratitude for the benefit of women and children worldwide. Please read and share these stories, and as always, use the comments section to let us know what you think.