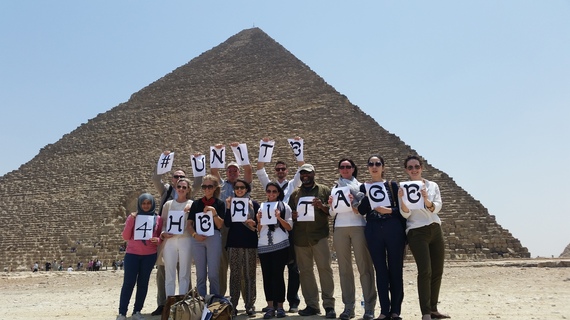 As one of its barbarous tactics in its war of terror, the so-called Islamic State of Iraq and Syria (ISIS) threatens, loots and destroys symbols of world civilization: museums and libraries; churches, mosques and synagogues; and treasured archaeological artifacts and sites. One of ISIS' intents is intimidation. Another: profit. ISIS takes precious antiquities from these sites - or encourages others to do so - and profits from their sale around the world. Heritage has become a pawn in their evil campaign.
In a positive sign that the political will is building to take on this highly profitable black trade, world leaders have drawn together three times in just the last three weeks to coordinate denying ISIS the opportunity to profiteer from pillaged antiquities.
Last month in Cairo, leaders from 10 Middle East and North African nations gathered in an emergency session hosted by the Egyptian government and UNESCO with the Antiquities Coalition and the Middle East Institute. The release by these governments of the Cairo Declaration set in motion steps to stem the sale of stolen antiquities and cut off sources of funding to extremists.
As ISIS plots its next conquest in the historic and priceless UNESCO World Heritage site of Palmyra in Syria, the United Nations passed a resolution with unanimous condemnation of the barbaric destruction and looting of cultural heritage.
Unanimous doesn't happen easily or often in the 193-member UN General Assembly.
Ambassador Mohamed Alhakim, the sophisticated and determined representative from Iraq is the force behind this new effort at the United Nations. In an impressive act of multilateral diplomacy, he shepherded a strongly worded resolution through the challenging UN system, declaring ISIS' intentional destruction of culture a "tactic of war" and calling on all nations to join together to fight against the erasure of our common heritage.
UNESCO Director-General Irina Bokova said the resolution represents a turning point in the mobilization of the international community against the destruction of cultural heritage. The resolution recognizes, as Ms. Bokova notes, "cultural cleansing as a new phenomenon now that its emerging as a threat to the security of the people, security in the Middle East."
UN Deputy Secretary-General Jan Eliasson said the coordinated action, improved information sharing and legal action would start to slow the tide of senseless extremism against the past, present and future of human civilization.
Last week to further turn global resolve into global action, Italy and Jordan's UN Ambassadors brought colleagues together with experts from the Antiquities Coalition, UNESCO, the United Nations Office on Drug and Crime, Interpol and the Carabinieri, the famed Italian police force who are world leaders in cultural law enforcement.
The intent of the meeting was to discuss how best to combine efforts under international law to cut off sources of financing to ISIS, as well as raise awareness about the cultural cleansing happening in the cradle of civilization.
Antiquities Coalition Chairman Deborah Lehr warned that would-be sellers and buyers that traffic in such pillaged artifacts become personal funders of terrorism and war. Buyers must be aware of this linkage, Lehr said, and urged caution in making these purchases.
Countries as diverse as Poland, Ghana, Hungary, Mali, Russia and the United States spoke out about the importance of taking action. Ambassadors shared lessons learned from the destruction of culture in their own countries, and what might be learned from those lessons. The Polish and Hungarian Ambassadors in particular noted the destruction and looting that occurred in their countries during World War II, and how they are still recovering their stolen heritage. And the Ambassador from Mali shared the poignant story about the attacks by extremist organizations in his country, which have torched ancient manuscripts (including Islamic texts) dating back to the 13th century.
The Turkish representative, reacting to comments that her country is the major transshipment point for illicit antiquities from Syria and Iraq, said Turkey is now strengthening protections at its borders. It is also warning museums, dealers and others purchasers that they will take strong action against those who are trafficking in looted antiquities. Shutting Turkey's border to this pernicious trade is essential to stopping to ISIS from benefiting from this black trade.
Clearly awareness is building in the international community about the importance of saving our shared common heritage. And creative ideas are being contemplated. The launch of Blue Hats for Culture has been proposed, as an extension of UN peacekeeping troops. And NGOs such as the Antiquities Coalition are considering the launch of Archaeocorps, an equivalent concept to Doctors without Borders for archaeology. UNESCO has also launched a campaign, #Unite4Heritage to raise global awareness.
Yet to be successful in this fight, the momentum must translate into serious action. Countries such as Egypt, Iraq, Italy, Jordan and the United States have shown their willingness in recent weeks to take a leadership role in this fight. Let us hope that this current momentum translates into the political will necessary to stop this destructive threat to our history before it's too late.
Related
Popular in the Community