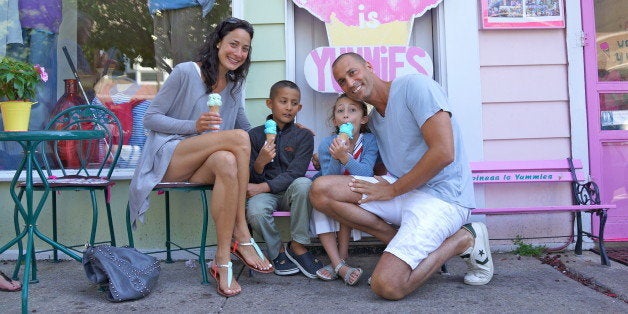 What kind of world do you want for your family in 2030?
I'll be almost 60, my son will be in his mid-20s, my daughter around 21 -- and that's a very interesting pivotal time in someone's life. Nothing would make me happier than to be in a world where my daughter has the same opportunities as my son -- where the role of women and men in the family are considered equal.
I hope that gender, equality and human rights are in a better state than today. We are not even close to being where we need to be. I travel the world and observe how the world treats women. In too many cultures subservience is so deep-rooted and accepted by both sexes.
In 2030, I trust that we will show more respect for our planet. The world will be listening and be aware of the illness we've caused our planet, and hopefully trying to heal it.
How/why are dads important to the progress of girls around the world?
You ask any father, anywhere, from any religion, any culture, and they'll speak as if they love their daughters more than anything -- girls hold a special place in their fathers' hearts. Yet in all cultures, that changes when it comes to positions of power, and family, and role in society. For us to succeed as a species, a sense of fairness and opportunity for all is the only way. I don't want to tell other people what to do, but people do not belong to other people; children are not ours -- they are simply in our care. Parenting has to be about caretaking, not controlling.
How has becoming a father changed you, your work and your hopes?
I was a very different man before I had children. I was the guy who'd roll my eyes when a kid would cry on a plane. Now I love hearing that because I know I'm on my way to my own babies and can't wait to see them. I changed from being focused on my own little life to this realization that it wasn't about me anymore.
When I met my wife, I fell really deeply in love with her -- I didn't think I would ever love anyone as much as her. And then with each of my children that feeling of falling deeply in love happened all over again. This terribly scary and wonderful feeling is a kind of euphoria, and you know you would go to the ends of the earth for these people. It wasn't just a feeling about my children, but a fundamental shift towards every child I saw.
It started a drive inside that it was up to me to do what I could, when I could, as often as I could, to make the world a better place. It also changed the way I take photographs. I had never taken pictures for charities before and have now created four documentaries and various exhibitions in the last five years on humanitarian issues. In that process, I learned how to redefine beauty.
I met a 14-year-old girl through the Make-A-Wish Foundation whose wish was to be a model for a day. Due to her rare form of leukemia, one of her arms was shrunken, as fragile as a bird's. As we began the photoshoot, she turned to the side, with her withered arm facing the camera. I asked her to turn the other way, to show the healthy-looking arm. She looked in my eyes and said, "I don't want to. I want to be photographed this way. I know why you want me to turn around, but I don't want to turn around. This is my story, this is who I am and it's why I am here."
I saw such courage and bravery in her, and at that moment my definition of beauty was completely changed. Her confidence and compassion for herself and others was the most alluring moment I've ever witnessed. I have never thought of beauty the same since. She and I stayed in touch and became dear friends, though she tragically died at age 21 of brain cancer.
Beauty comes from the heart: Your life, your story, your personality and your eyes actually tell the story of you -- of who you are.
What do you think we can all do to make this planet a better, happier place?
We all really know what to do already. People constantly ask me, "What can I do to be more attractive and beautiful?" Which seems odd, but you wouldn't believe how often I'm asked that question. I always say the simplest thing you can do is to give back. When you give back and help others, you've done a good thing. It doesn't have to be a huge, life-altering thing -- it can be as small as holding a door for someone, donating your time, or bringing someone who needs it something to eat. There's a reason for you to be proud, stand tall and have a spring in your step. When you feel good about yourself, you shine.
That's the sexiest, most beautiful thing on the planet: doing the right thing as often as you can. It's universal, and it's about being a decent human being.
You share, they give: Each time you 'like' or share this post via the social media icons on this post or comment below, Johnson & Johnson will donate $1 (per action) up to $325,000, to improve the health and wellbeing of moms and kids worldwide through MAMA, Shot@Life, U.S. Fund for UNICEF and Girl Up. $1 means one day of school for a girl in Guatemala through Girl Up.
You can also use the Donate A Photo* app and Johnson & Johnson will donate $1 when you upload a photo for Girl Up or UNICEF, up to $100,000. You can help make a difference in seconds with the click of your mouse or snap of your smart phone.
* via the Donate A Photo app for iOS and Android. Johnson & Johnson has curated a list of trusted causes, and you can donate a photo to one cause, once a day. Each cause will appear in the app until it reaches its goal, or the donation period ends. If the goal isn't reached, the cause will still get a minimum donation.
Related