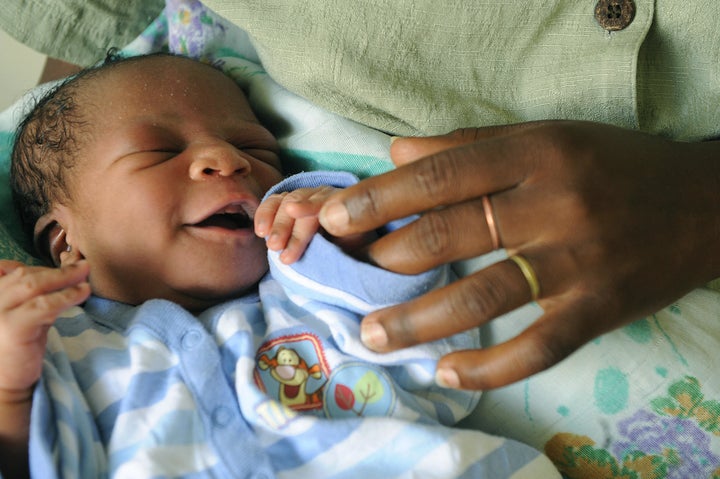 The word alone is powerful. Which makes today -- International Women's Day -- a day of exponential power that embraces the mind, body, and spirit.
For me, International Women's Day is as personal as it is powerful. I gave birth to my daughter on this day -- a day that is meant to celebrate all women. So, in my role as a mother to my own daughter, I have also learned to embrace the task of global motherhood.
This broad idea of womanhood and mothering is something that I truly honor. It has not only fueled my ability to give birth to my daughter, but also to give birth to my business, my foundation, my passions. It informs the respect I have for life in every state: past, present, and future and it bolsters my mission to preserve culture, empower children and propel integrative health care forward.
In my journey as a woman, I have learned to look at the word "wo-man," with new eyes. When you really look, you see there is a man in every woman. We are inclusive and I celebrate both the feminine and masculine energies. In my professional life, I have consciously designed knowing how important it is for a woman to step into her own power. I began my career dressing women, and now I address them because I know this is the birthplace for real change.
International Woman's Day is about collaborating with women, uniting as mothers, and connecting to create real change. This year, I had the privilege of doing exactly this with many extraordinary women. I think of how moving it was to attend the Women in the World Summit one year ago. I think of Maria Shriver and her deeply motivating Women's Conference that brought together 16,000 women and honored heroines like Oprah Winfrey, Sandra Day O'Connor, Carolyn Blashek, Oral Lee Brown and Sister Terry Dodge.
I witnessed incredible ingenuity at the Inaugural TEDWomen conference, led by the brilliant Pat Mitchell. TEDWomen connected a global community of women who had stories to share; women who have greatly inspired me like Hillary Clinton, Madeleine Albright, Roshi Joan Halifax, and Jacqueline Novogratz. As well as my dear friend, Eve Ensler, who took the stage to share her powerful story from the beginning -- from the Vagina Monologues to her passion for the rights of women in the Congo to her courageous battle with cancer.
In September, I had the great honor of co-hosting the WIE (Women, Inspiration and Enterprise) Symposium with Arianna Huffington, a powerful, inspiring communicator and Sarah Brown, a woman who's passion for safe maternal health has served as a catalyst for young women everywhere. This conference helped me to galvanize the fashion community into action as well. It was amazing to see designers like Diane von Furstenberg, Vera Wang, and Carolina Herrera create time during fashion week to design a symbolic white dress to be auctioned off in support of the cause.
When I think about International Women's Day, it is impossible for me not think about the unbelievable community of women in my life. It's impossible for me not to think about the young women rising, the women who represent our future. As a grandmother, I think about my granddaughter -- the woman she will be in 10 years. I think about the world we are creating for her to step into as a grown woman and the unique ways in which she'll make a difference. I do believe it is our duty to connect, communicate and collaborate with this generation of women rising. I know, from personal experience, how important female mentorship is. My life has been forever changed because of my first mentor, Anne Klein. So, I know that a moment of exposure to real passion can unlock a bottomless well of purposeful living. It is because I passionately believe these things that I am offering the opportunity for five young women to join me at the 2011 WIE Symposium. I want to share the inspired brilliance of WIE with this generation of women who represent our future. I invite you to visit www.urbanzen.org to learn how you can join me at the WIE Symposium this year.
Currently, I am in Israel with my Kabbalah teachers Karen Berg and Ruth Rosenberg. During this trip, I had the great honor of visiting the tombs of ancient Israeli matriarchs -- Sarah, Leah and Rachel. I am humbled by the power and presence that these great women continue to exude and feel even more grounded in my belief that the world needs empowered mothering.
So, in honor of International Women's Day, I want to thank all women for laying the groundwork for our children and grandchildren. Let's join together because, collectively, we really can mother the world.