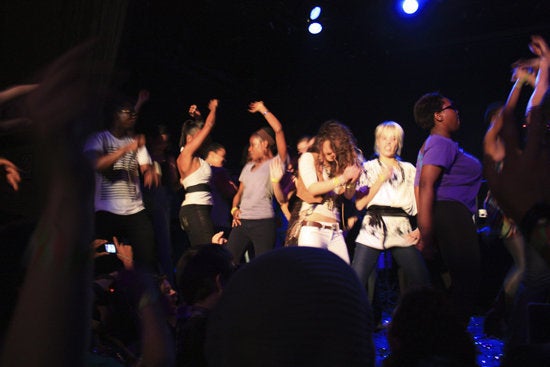 Watching John Martyn cue the drum machine on his epic folk journey, "Small Hours," you recognize that this man was way ahead of his time, implementing electronics in his genre the way Dylan ripped through electric guitar riffs.
I can't say I was ever a big John Martyn fan, but I am a fan of many musicians who were fans of his, and this small degree of separation has made Johnny Boy Would Love This... A Tribute to John Martyn (Hole in the Rain, August 16) a repeat player in my iPod.
Martyn is sometimes cited as a parent of trip-hop, due to his technological openness alongside men like Lee Perry back in the late '70s. Really, though, it is his lyrics that affect people most, which is why his 2009 death of double pneumonia hit friends and fans hard.
Poet and prose man, his catalog is brilliantly captured by Robert Smith, who gorgeously tackles "Small Hours," as well the folksier side of Beck, Beth Orton, David Gray and the excellently titled if somewhat misleading Bombay Bicycle Club (I was waiting for some hyper Bollywood). The thoroughness and yet comprehensiveness of this two-disc, 30-track collection is nearly as inspiring as Martyn's output himself. Former drummer and longtime friend Phil Collins tenderly ends this collection, though for some -- myself included -- Marty's legacy is just now becoming more prominent in my collection.
Speaking of little known folk, who knew that Cuba had an African-flavored choir heritage? The Creole Choir of Cuba, consisting of six women and four men aged 27-61, has revived the slave songs of their forebears on an absolutely brilliant album, Tande-la (Real World, Sept 13 physical release, available digitally now).
Rooted in Camagüey, a version of this ensemble formed in 1994, though it was not until this very year that the members have made an international push. (The Choir was supposed to play at New York's GlobalFEST in January, but visa issues nixed that notion.) The album's title, which means "listen," says it all. This dozen-track outing has the lyrical effervescence and percussive ingenuity that I wish Ladysmith Black Mambazo or its many rip-offs exhibited. Celebrating the memories of their Haitian ancestors who arrived to Cuba via West Africa, these two-century old songs have been retextured and reconfigured in a tasteful style that is one of the most original sounds that I've heard in the past year. A beauty of a record, through and through.
If you are inclined to get as excited about an album called Back From the Brink: Pre-Revolution Psychedelic Rock from Iran, 1972-1979 (NowAgain) as I am, you won't be disappointed by this 30-track compilation. Spreading news of Islamic prohibitions is popular in today's America, but Kourosh Yaghmaei and his two brothers were truly victims of a widespread music ban. His siblings fled when the '79 revolution shook Tehran; Kourosh stayed, choosing censorship over bailing on his home turf, all the while stashing the master tapes of his music.
The scale of this collection alone is outrageous. First influenced by the Doors and the Kinks, Kourosh soon fell in love with Elton John and James Taylor. I personally hear the Byrds, even a hint of Jefferson Starship/Airplane/Hindenburg. The songs stand up in a retro sort of way, while I'd swear I'm gazing at vintage Frank Zappa in the extensive 52-page booklet. You won't receive a lesson in Iranian heritage in this blatantly psychedelic American sound, but you will get one fine collection of prime time Haight-Ashbury reconfigured for a hungry Arabic audience.
Gecekondu (Essay, July 19) is the album I've been waiting for Istanbul-based Baba Zula to make. These Turkish psychedelic folkies have created quality material before, yet on all its records, there have been eight really good elements in a song, and then one or two Zappa-esque twists that ruined it for me. I like a good groove, and while the band has not forsaken its strange past, the musicians give me plenty of rhythms to play with. Utilizing traditional instruments like the saz and wooden spoons (kitchens beware), Dr. Das of Asian Dub Foundation drops the dub heavily all over Gecekondu. Sure, tracks like "Efkarli Yaprak / Worried Leaf" won't be on repeat, but the crisp textures of "Le Furet Dans La Foret En Feu" and the two versions of "Temptation," the latter an 11-minute electric classic, will be. The fusing of string instruments with Theremin and santoor is brilliant, and the percussion throughout is the finest of any Baba Zula record thus far.
Calling all HuffPost superfans!
Sign up for membership to become a founding member and help shape HuffPost's next chapter