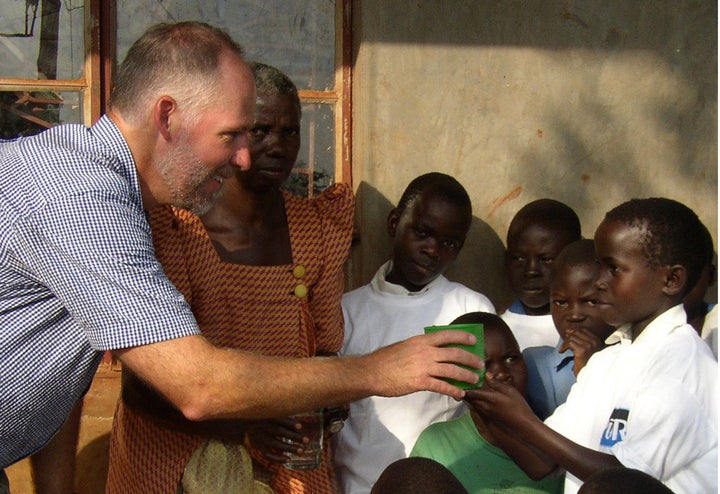 In advance of the 2011 Global Philanthropy Forum, I interviewed Jane Wales, President and CEO of the World Affairs Council and Founder of the Global Philanthropy Forum, on the evolution of the convening, the philanthropic sector today, areas to pay special attention to and much more.
Rahim Kanani: Marking its 10th anniversary this year, how would you characterize the evolution over the last decade of the Global Philanthropy Forum in terms of the kinds of issues discussed and debated over the years?
Jane Wales: When we came together for our first conference 10 years ago, we considered issues that proved prophetic. In the wake of the invasion of Afghanistan, we considered the fragility of states that ran the risk of collapsing into conflict absent a robust civil society. We discussed the effect of the youth bulge in large swaths of the world, and the impact of the information revolution on restless young men's sense of themselves and their prospects. We treated poverty as a package that needed to be unbundled, and argued that dignity played a large role in well-being. We identified the empowerment of women and girls as an intervention with high social and economic return.
In thinking about the tools in the economic development toolbox, we explored the role that technology could play in enabling previous economic outcasts to leapfrog into the global economy, and the previously disenfranchised to leapfrog into and the global polity. We began a conversation about novel ways to harness private capital flows to public goals. Finally, we considered the opportunity for and necessity of partnerships across sectors to manage the dangers faced by so many.
In the intervening years, "new philanthropists" -- many long-time GPF members -- have acted on the knowledge gained not only at our programs, but from their direct experiences and those of their GPF colleagues. They have themselves helped to shape philanthropy, devising some of the most strategic, inspired and sustainable solutions to the challenges faced. Immunization bonds have been floated to finance the delivery of needed vaccines. Debt has been "bought down" so that countries with World Bank loans can free the capital they need to eradicate polio in their midst. Investment funds have been formed to spur the growth of small enterprises that provide goods, services and income-generating opportunities for the poor. Mobile telephony has been employed for the provision of basic health care, or the delivery of governmental services. And mobile phones are increasingly used to facilitate the movement of capital, enabling remittances to be delivered at low or no cost, loans to be secured, bills to be paid and insurance to be purchased. A range of financial services -- including crop, herd and life insurance -- have been made available to those who are outside of the reach of traditional banks.
So it is hard to talk about the substance of the issues discussed without linking it to the quality and inventiveness of the solutions tested, tried and scaled by members of this learning community. If we think of the GPF as a top-down structure that pushes information out, you would conclude that we do a good job. But if you think of it as a learning community, an ever-growing brain-trust of philanthropists eager to both teach and learn, then you see the dynamic picture of experimentation, and you conclude that the this community is doing a great job.
Rahim Kanani: Over the last decade, what have been some of the major shifts to steer the philanthropic world one way or another?
Jane Wales: Perhaps the most important shift is that the definition of philanthropy has broadened to include all private means of financing social goals. Rather than limiting themselves to grantmaking, many philanthropists now invest in businesses that provide a social and financial return. They're employing new mechanisms like impact bonds and many are working to assure that social change is intrinsic to their company's value chain. I think an impact economy can become a reality and will be a powerful social innovation.
At the same time there are technology innovations that will fundamentally change our world. The most important of these is the combination of smart phones and automated translation. You don't need to speak English, French or Mandarin to access the world's knowledge on the internet. All the languages of the developing world will be available to the user.
An impact economy and connective technologies can help to improve lives on a large scale, advancing goals that many philanthropists share. They also can be used to increase the impact and amplify the value of the work of philanthropists and those they support.
Rahim Kanani: What have been some of the big successes in philanthropy in recent past?
Jane Wales: I think we're making tremendous headway when it comes to evaluation. We used to gather as much data as possible in search of evidence of impact. That approach was not only onerous for grantees, but it often failed to produce useful results within the timeframe that was needed. The field has matured enormously, both in the world of grantmaking and in the world of social investing. The Bill & Melinda Gates Foundation has been an intellectual leader when it comes to measurement and evaluation (M&E) in grantmaking. And the Rockefeller Foundation has played a similar role when it comes to social investing.
At the Aspen Institute's Program on Philanthropy and Social Innovation (PSI), we're trying to capture the evolving norm of "decision-based" M&E, which starts with its core purposes -- informing decision making and enabling continuous learning -- and then designs an M&E system that meets both needs. It allows grantors and grantees to move away from evaluation as audit, toward evaluation as learning. And importantly, it provides opportunities for field-wide learning, by making non-proprietary data publicly available.
PSI will publish an edited volume that will explore the attributes of a "decision-based" approach and include chapters authored by foundation presidents that describe the ways it can be applied in various contemporary settings.
In social investing, you see the importance of a community of intermediaries such as the Aspen Network of Development Entrepreneurs (ANDE) or the Global Impact Investing Network (GIIN). Each provides a platform for a community to learn together and come to a consensus. And, through the Global Philanthropy Forum and others, they can do so along with the grantmakers who support this kind of work.
In addition to M&E, I think there's been a lot of focus on collaboration, which is very much on the rise and I think it's a trend that will continue. Today's philanthropists are ambitious in their social goals and they're taking on very large problems -- no single donor has got the money to achieve these goals on their own. So they're going to leverage one another, and they're going to leverage other sectors to achieve the outcomes they seek. They leverage one another through peer learning organizations like ours, which offer venues for pursuing co-funding opportunities. Strategic philanthropists are also leveraging the private sector by supporting microfinance, or investing in companies that provide goods, services and income producing opportunities for the poor. They leverage the public sector through public-private partnerships. This path was forged by large private foundations like the Rockefeller and Ford Foundations, which pursued the Green Revolution in this way, partnering with Monsanto and other chemical companies to produce fertilizers and drought resistant crops that transformed India from a grain importing state to a grain exporter. New philanthropists travel down this path with ease, armed with both the positive and the negative lessons of that bold experiment.
We're seeing these kinds of collaborations in virtually every issue domain.
Rahim Kanani: At the same time, in which areas do we need to energize, or re-energize, our focus?
Jane Wales: I think we need to be intentional about creating an environment from which an impact economy can emerge. This requires at least four things. First, we need government policies and practices in place that welcome and encourage these innovations. This could include regulations, tax treatments, OPIC-style guarantees to share risk -- a whole range of mechanisms within government that have been beneficial to enterprise generally, and could now be applied to social enterprise.
The second requirement is an infrastructure of services so that when philanthropists decide to make a social investment they can turn to experts with the knowledge and tools needed to identify and manage smart investments. Some within the GPF community are working with traditional wealth managers to build a cadre of smart social investors.
The third requirement would be a set of clear standards so that you know success when you see it. These are the kinds of tools that enable impact investing and initiatives. The Global Impact Investing Network, or GIIN, is moving the field towards this important goal through its Impact Reporting and Investment Standards, known as IRIS.
And finally it requires colleagues from whom to learn and with whom to collaborate. This is where you see the popularity of learning networks like the Global Philanthropy Forum for donors or like TONIIC among angel investors or ANDE among the intermediaries that are sourcing the investment opportunities. This is a growing field and that is a very good thing.
Rahim Kanani: Since the Global Philanthropy Forum started 10 years ago, what has surprised you the most about both the Forum, and also the philanthropic sector?
Jane Wales: I admit I was stunned by the growth of the Forum and the speed with which newcomers to philanthropy not only embraced strategic giving, but embraced a variety of means of achieving social impact. I was also surprised to see so many highly individualistic and accomplished entrepreneurs -- including folks that have been effective solo actors -- form a true community, one that is welcoming, warm, inquisitive and collaborative.
I have always thought that invention was in the DNA of philanthropy, and so I have not been entirely surprised by the fact that ideas that were just coming into being a decade ago are now part of the new "normal".
But, what has impressed and thrilled me most has been to see how the next generation -- those ranging from their teens through their twenties -- has embraced philanthropy as part of their lives and part of their work. It is they who are setting norms. It is they who are requiring of their colleges and their graduate schools that social change models be built into their curriculum. And it is they who are selecting employers based on the latter's contributions to the social good. In order for businesses to be competitive in their hiring, they must act on the values that animate this generation. This generation is breathtaking -- and having remarkable impact.
Rahim Kanani: As you look ahead into the next decade of philanthropy, what worries you the most?
Jane Wales: What I worry about most is that we will ignore science in any issue domain and miss an opportunity as a result.
I don't worry that a few disappointments will lead people to shy away from philanthropy. These entrepreneurs take great risks to achieve great gains for society. They accept that failure will be part of the experience. And, they probably would think they were insufficiently bold if failures never occurred.
Rahim Kanani: What are you most optimistic about?
Jane Wales: I already mentioned the next generation. Another thing I'm optimistic about is the globalization of philanthropy. The Global Philanthropy Forum started ten years ago with a core of American philanthropists, but we're now increasingly international. Our current membership includes philanthropists from Asia - China, India and Pakistan - Europe, Southern Africa, Latin and Central America. Some come to us through referrals of partners. Other philanthropists learn of us through word of mouth.
At our upcoming Conference, we're taking a closer look at how philanthropy is leapfrogging traditional charity in two fast-growing economies: India and China. We've partnered with the Confederation of Indian Industry (CII) and Aspen India. And we're considering a partnership with another organization that works with NGOs and social businesses to improve their capacity. We'll be co-hosting a conference in India as well as a traveling seminar this coming winter, during which our members will meet with their counterparts as well as well-vetted grantees and leaders of social businesses.
Rahim Kanani: Lastly, as we continue to watch the events unfold in the Middle East and North Africa, what are the implications of this social unrest on the philanthropic sector in the context of development, human rights and security?
Jane Wales: Life is full of opportunities so long as one understands cultural context.
It is a reminder of the interaction among trends, issues and peoples. Three broad trends have been changing relations within and among states and across sectors -- the information revolution, economic globalization, and demographic shifts. None operates in isolation, but rather in complex interaction. One of the much-discussed effects is the rise of non-state actors. Another is the growth in disparities in wealth, income and social outcomes. And a third is the recognition that level of education determines both individual and societal success.
It suggests real opportunity and real vulnerabilities. But these and other sweeping conclusions should be tempered by a deep understanding of cultural context.
So it is a reminder to learn as much as we can, partner when possible and be agile enough to seize opportunities.
Popular in the Community