Less than 10 percent of the world's population will be living in extreme poverty by the end of 2015, the World Bank forecast on Sunday.
The Washington-based institution's latest projections expect the number of people who survive on $1.90 a day to drop from 12.8 percent of the human population in 2012 to 9.6 percent this year. That means 702 million people still struggle to survive.
But that's a stunning decline from the numbers reported over the last 25 years. According to the World Bank, 37.1 percent of the world's population lived in extreme poverty in 1990. In 2015, that number is estimated to drop to 9.6 percent.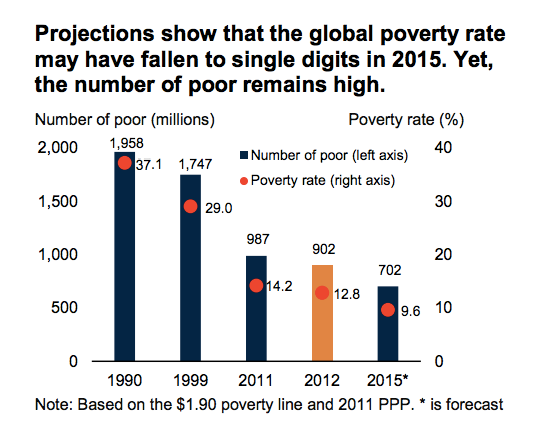 "This is the best story in the world today -- these projections show us that we are the first generation in human history that can end extreme poverty," World Bank President Jim Yong Kim said in a press release. "This new forecast of poverty falling into the single digits should give us new momentum and help us focus even more clearly on the most effective strategies to end extreme poverty."
Eradicating poverty by 2030 -- a goal set by the United Nations and non-governmental organizations around the world -- hasn't suddenly become easy, Kim warned.
"It will be extraordinarily hard, especially in a period of slower global growth, volatile financial markets, conflicts, high youth unemployment, and the growing impact of climate change," he said. "But it remains within our grasp, as long as our high aspirations are matched by country-led plans that help the still millions of people living in extreme poverty."
Despite the overall decline, the number of poor is not dropping as fast in some areas entrenched in conflict or dependent on commodity exports, the World Bank noted. Suffering is becoming increasingly concentrated in Sub-Saharan Africa. That region, which accounted for 15 percent of global poverty in 1990, now accounts for half.
The region's increased share of the world's poor is largely explained by poverty in East Asia dropping drastically from 50.6 percent in 1990 to a projected 11.9 percent by the end of 2015, but the situation in Sub-Saharan Africa is exacerbated by the region's rapid population growth of 2.6 percent a year, experts say.
"The rate at which poverty is falling is less than the rate at which the population is rising, so the number of people living in poverty continues to grow," Laurence Chandy, a fellow with the Brookings Institution, wrote in May. Chandy also pointed to flawed data-collecting practices and a "mismatch between where growth is occurring and where the poor are" in Africa.
That's not to say Sub-Saharan Africa hasn't made enormous strides. The World Bank predicts that poverty in the region will fall from from 42.6 percent in 2012 to 35.2 percent by the end of this year.
The World Bank noted the increase in pollution in the cities of developing nations as another element working against the eradication of poverty overall.
"Urban air pollution emerged as a leading cause of ill-health in developing countries—more than triple the impact of malaria, HIV and tuberculosis combined," the bank said in its report. "While trends in 'traditional' water and sanitation problems show great progress over the past 25 years, trends in 'modern' problems of environmental management and sustainability point to the reverse."
CORRECTION: A previous version of this story identified South Asia's drop in poverty as an explanation for Sub-Saharan Africa's increased share of the world's poor.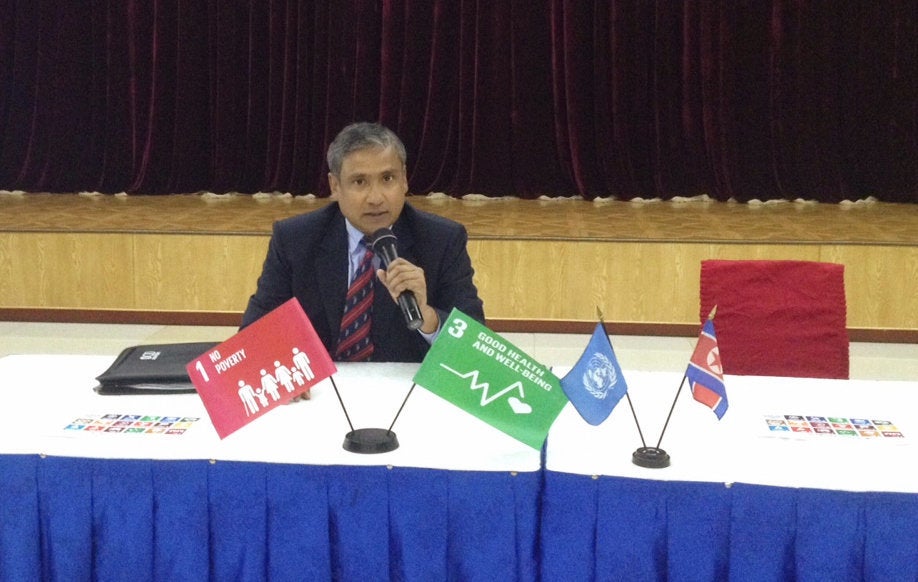 Flags For Global Goals
Popular in the Community