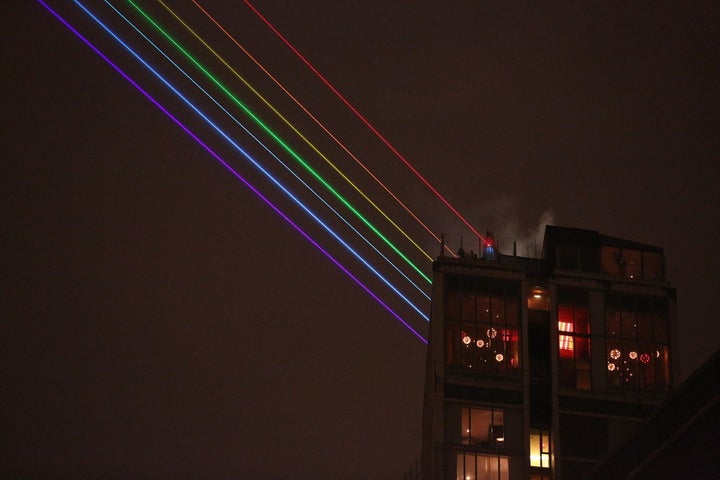 Last night, "Global Rainbow," Yvette Mattern's laser light installation atop The Standard hotel in Chelsea made its New York debut.
Art Production Fund teamed up with the hotel to present the project, which beams seven colored lights from the roof toward the areas hardest hit by Hurricane Sandy. For the next two nights from 8 p.m. to 2 a.m., viewers from Manhattan to Rockaway Beach in Queens will likely be able to see the faint outline of a rainbow overhead.
In an interview with The Huffington Post, Mattern, while shivering in the freezing temperatures on the roof, looked out into the beams a few feet above. "The rainbow has its own power, you know?"
For the project's Chelsea launch, the artist wants the rainbow to serve as a reminder that "we are all in this together, regardless of divisions of class, race, religion and culture," she says in a news release. The project is to serve as a call to action to raise funds for Waves For Water and the New York Foundation for the Arts' Emergency Fund, which are taking donations here.
Lightwave International donated a custom lighting kit to do the most recent piece, which cost about $80,000. The company did a demo outside its main office in Pittsburgh before its New York launch.
"We had it projected outside the warehouse ... Literally within 10 minutes, cars were driving to the office. They just followed [the beams]. They were like, 'I was hoping there was either a strip club or a pot of gold up here!'" said laser technician Derek Abbott.
"Global Rainbow, After The Storm" runs nightly until Nov. 29, so make sure to look up, New Yorkers!
Global Rainbow
Got a photo of the Global Rainbow? Click the green 'Add Photo' button below to include it in our slideshow.
Correction: In an earlier version of the article, we listed Lightwave International as Lightwave Laser. We apologize for the error.
Popular in the Community