Last year President Barack Obama delivered remarks and answered questions at a town hall with young leaders of the Americas at University of the West Indies in Kingston, Jamaica.
"I launched an initiative called "100,000 Strong in the Americas." And the goal was to have 100,000 U.S. students studying in this region, and 100,000 of this region's students studying in the United States by the end of this decade. And we are on track to meet that goal,"
Launching the Young Leaders of the Americas Initiative (YLAI) to applause, 250 young leaders entrepreneurs and civil society leaders from Latin America and the Caribbean will participate in the fellowship program beginning in October.
Opportunities like YLAI contribute to a record 3.8 million black immigrants living in the United States today, more than four times the number in 1980, according to a Pew Research Center analysis of U.S. Census Bureau data.
More than one million Americans trace their ancestry to Jamaica.
Jamaicans are the largest group of American immigrants from the English-speaking Caribbean.
Black immigrants from the Caribbean are more concentrated in the Northeast and the South--95% live there--than the overall black immigrant population.
Black immigrants are from many parts of the world, but half are from the Caribbean alone.
Jamaica is the largest source country with about 682,000 black immigrants born there, accounting.
More than 25 years ago, native Jamaican Delise O'Meally came to the U.S. seeking similar opportunities to improve her life. By way of University of the West Indies and New York, O'Meally landed at Morgan State University on a tennis scholarship.
Recently retired and longtime Haverford College head women's tennis coach, Ann Koger, informed then head coach of Morgan State women's tennis, Larry Frazier, about the skillful O'Meally.
"When I first met her at an ATA tennis tournament in Washington, D.C., I knew she was special," said Koger. "She has gone on to be not only an accomplished tennis player but has attained and shown leadership in many venues."

A winner of two Jamaican National Junior titles between the ages of 14 and 18, O'Meally wasn't quite focused on developing her game to achieve educational gains. In 1991 she enrolled in the Baltimore City HBCU with three years of National Collegiate Athletic Association (NCAA) eligibility.
The MEAC's 1993 Most Outstanding Tennis Performer as a senior, O'Meally played #1 singles and doubles her entire career while also achieving an undefeated record during the 1991-1992 season. This impressive resume has led to her being inducted into the Morgan State University Varsity "M" Club Hall of Fame this fall.
"Fortunately for me, athletics gave me an opportunity to go to college, and to get my start. I knew how to swing a tennis racket, having played junior tennis competitively growing up," O'Meally shared.
"I graduated with a degree in journalism and wanted to be a writer. My "Opportunity," came cloaked, disguised as tedious, dreadful compliance work," at Morgan State. "I had the chance to work on my MBA [at Morgan] at night. After I finished my Masters degree, I saw an opportunity at the NCAA national office in Kansas City."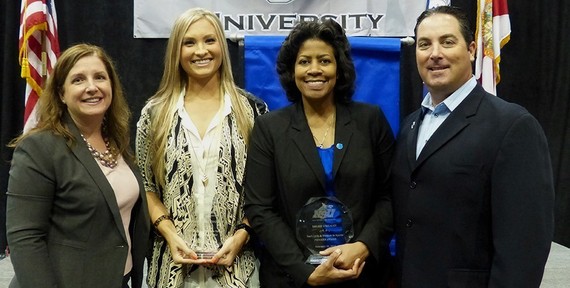 The Nova Southeastern University Department of Athletics honored O'Meally at their National Girls and Women in Sports Luncheon in 2014. Photo courtesy of Nova Southeastern University

O'Meally worked in Academic and Membership Affairs as an interpretive specialist, a director overseeing the interpretations area and supervising all the staff that handled interpretive issues for all three NCAA divisions. Spending seven years with the group, O'Meally "began to prepare myself for new opportunities."
While earning a law degree from Indiana University School of Law--Indianapolis, O'Meally "made a lateral move into governance" that would position her to have a greater impact on policy decisions.
Around 2008, O'Meally made the argument that the world was "rapidly changing that the NCAA national office had to engage internationally and build those relationships that would be beneficial to our membership in the future, as well as our growing population of international student-athletes."
"I wedged my foot into the slight crack of the open door," she recalled confidently. "I assumed the role of Director of Governance and International Affairs. I served as a liaison to the NCAA Executive Committee, I managed association-wide issues and I was the point person on international issues."

"We must strive on to gain the height although it may not be in sight."
Jamaican-American poet Claude McKay
In 2011, she was elected as the Vice President for the United States International University Sports Federation and later that year during the World University Games in Shenzhen, China, was elected as the Vice President for the Pan American University Sports Federation and appointed to serve on the International University Sport Federation Commission on Development of University Sport.
Due to her international experience, O'Meally has participated as a mentor in the U.S. Department of State and espnW Global Sports Mentoring Program. Housed within the State Department's Empowering Women and Girls through Sports Initiative, the University of Tennessee's Center for Sport, Peace, and Society implements the mentoring program and includes activities with the Sports Visitors and Sports Envoys programs.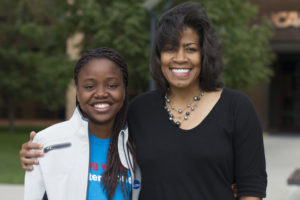 O'Meally with U.S. Department of State and espnW Global Sports mentee, Melissa Farquharson. Earned her Master's degree from University of Tennessee's Center for Sport, Peace, and Society in the College of Education, Health, and Human Sciences in sports management this past May.

O'Meally also served as deputy head of delegation for Team USA at the World University Games in Russia in 2013 and again in 2015 in Korea. Last summer, she was appointed Secretary General of the United States International University Sports Federation, the third secretary general in the organization's almost 50 year history and the first woman in that role.
Two years ago, O'Meally was named Executive Director of the National Consortium for Academics and Sports (NCAS), founded by Dr. Richard Lapchick. Using the power of sport to effect positive societal change, NCAS educates and empowers individuals and organizations through inspiring values-based thinking leading to actions that promote social responsibility and equality.
She serves on the Board of the Ball State University Center for Peace and Conflict, and the Board of Overseers for Indiana University's Tobias Center for Leadership Excellence. O'Meally has served as an adjunct professor lecturing on sport management, NCAA governance, and issues that impact women including domestic violence, rape and other acts of malfeasance against women. A vocal advocate for equitable opportunities for women and people of color, O'Meally is a passionate believer in the unique power of sports to break down barriers and contribute to a peaceful and just society.
"Take the opportunities you have been given and work hard to create additional opportunities for yourself and others. Change - don't fear it. Even when it looks or seems difficult," O'Meally stated. "Maybe you feel uncomfortable, out of your element. Maybe the clouds are almost touching the ground, or worse, maybe smoke is coming from the ground. But even when you can't see the end right away, be brave."
Follow Delise on Twitter: @domeally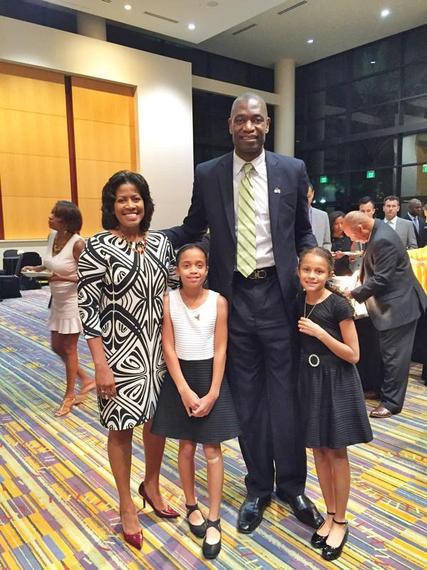 Delise O'Meally with her twin daughters, Cameron and Casey, and former NBA player turned humanitarian, Dikembe Mutombo. File photo

Calling all HuffPost superfans!
Sign up for membership to become a founding member and help shape HuffPost's next chapter