Burning fossil fuels could raise Earth's temperature by 10.8 degrees Fahrenheit (6 degrees Celsius) within 88 years, according to a new report by accounting firm PricewaterhouseCoopers. That's triple the goal of the 2009 Copenhagen Accord, a nonbinding U.N. treaty in which 141 nations pledged that "the increase in global temperature should be below 2 degrees Celsius" (3.6 degrees Fahrenheit).

"It's time to plan for a warmer world," PwC partner Leo Johnson writes in the report's introduction. "Even doubling our current rate of decarbonisation would still lead to emissions consistent with 6 degrees (Celsius) of warming by the end of the century. To give ourselves a more than 50% chance of avoiding 2 degrees (Celsius) will require a six-fold improvement in our rate of decarbonisation."

That's not impossible, but as Johnson points out, it's unlikely. Humanity reduced its collective carbon intensity by 0.7 percent in 2011, yet Johnson says we now must decarbonize by 5.1 percent annually to meet the Copenhagen Accord's target. "[N]ot once since World War 2 has the world achieved that rate of decarbonisation," he writes, "but the task now confronting us is to achieve it for 39 consecutive years."

The main reason why decarbonization isn't happening quickly enough, the report adds, is widespread reliance on fossil fuels. Even though global carbon intensity is down, energy-related carbon emissions grew by 3 percent from 2010 to 2011. Too much carbon dioxide in the atmosphere, along with other greenhouse gases such as methane, contributes to global warming by trapping solar heat on the Earth.

U.S. carbon intensity fell 3.5 percent from 2010 to 2011, according to the report, and U.S. energy-related emissions fell by 1.9 percent. These reductions were matched or exceeded by several other developed nations, including France, the U.K., Germany and Italy. But they were also offset by rising emissions in developed and developing countries — China saw its energy-related emissions rise 9.4 percent, for instance, followed by Australia (8.7 percent), Turkey (8.6), Argentina (7.9) and India (6.9).

The U.S. reduction of energy-related emissions is partly due to a mild winter, PwC points out, as well as the growth of fuel-efficient vehicles in recent years. But it's mostly a result of the country's recent shale gas boom, which has helped replace carbon-heavy coal and oil with natural gas, which emits less carbon dioxide. And while the U.S. is now using less coal thanks to cheap gas, it's still exporting large amounts of coal to other countries, negating much of its own progress.

And the U.S. isn't alone in exploiting shale gas — the controversial drilling technique known as "fracking" is already spreading to other gas-rich parts of the world, from Canada and Russia to India and Australia. This could help in the short-term, according to PwC, but it may also hinder long-term efforts to fight global warming.

"A shift to gas away from oil and coal can provide temporary respite, a necessary but not sufficient move to the low-carbon challenge," the report states. "[But] an over-reliance on gas, particularly in emerging economies expecting high energy demand growth, could lock in the dependence on fossil fuel." Avoiding this lock-in, PwC says, "will require discipline in governments that encourage gas generation, to ensure that incentives are not diverted away from renewable energy."

World leaders will meet later this month in Doha, Qatar, to continue long-stalled U.N. climate change negotiations. The two-week summit kicks off Nov. 26.
Related
Before You Go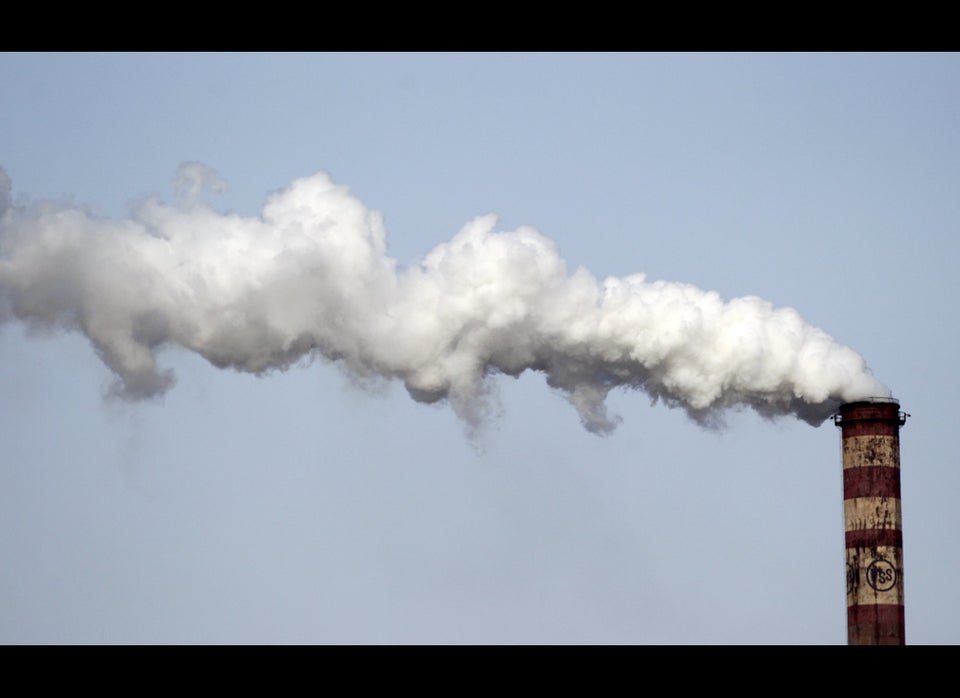 Top 10 Most Polluting Countries (2010)
Popular in the Community