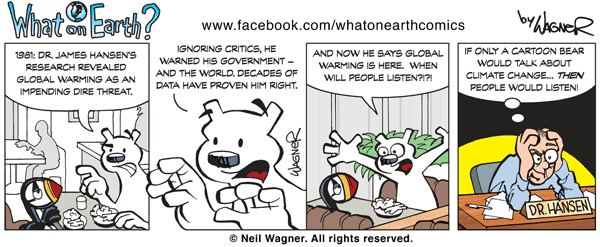 "...my colleagues and I have revealed a stunning increase in the frequency of extremely hot summers, with deeply troubling ramifications for not only our future but also for our present.

...for the extreme hot weather of the recent past, there is virtually no explanation other than climate change."

- James Hansen
Dr. James E. Hansen -- head of NASA's Goddard Institute for Space Studies (GISS) and adjunct professor in Columbia University's Department of Earth -- wrote a August 3 Washington Post op-ed that is a real eye-opener. The title of the piece gives the reader a pretty good idea of what he is trying to say: Climate change is here -- and worse than we thought.
So why should we listen to Hansen as opposed to, say, Sen. James Inhofe or radio personality Rush Limbaugh? For starters, Inhofe and Limbaugh have absolutely no background in climate science. Their (inaccurate) assessments of global warming are based almost entirely on opinion, rather than fact.
:
B.A., & Ph.D. in Physics
M.S. in Astronomy
Published for decades in peer-reviewed journals
Heads a premier institution for climate research
Third, Hansen has the support of world-class experts, such as fellow climate guru Michael E. Mann, who says of Hansen:
Hansen, it turns out, was right, and the critics were wrong. Rather than being reckless, as some of his critics charged, his announcement to the world proved to be prescient -- and his critics were proven overly cautious. Given the prescience of Hansen's science, we would be unwise to ignore his latest, more dire warning.
To wrap up, let's assess the credibility of Mr. Dr. James E. Hansen:
Time and data-proven accuracy of his work
Support of world-class experts
Grandfather (C'mon, what's more trustworthy than a grampa?)
Strong link to one of television's classic comedies. GISS is located above Tom's Restaurant , which is known to Seinfeld fans as the restaurant where Jerry and the gang hang out. (The diner featured in today's comic strip is based on the Seinfeld set.)
I'm sold! Who wouldn't give this guy a good listen?
Calling all HuffPost superfans!
Sign up for membership to become a founding member and help shape HuffPost's next chapter