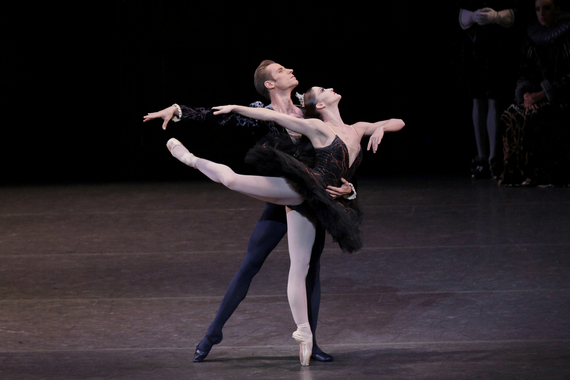 Ashley Bouder as Odile and Andrew Veyette as Prince Siegfried in Peter Martins' Swan Lake at New York City Ballet (photo: Paul Kolnik)
There is no lake in this 20th century Swan Lake.
Which may be a warning from Danish set designer and geologist Per Kirkeby about the crisis of global warming.
His chilling, abstract backdrops for the classic story ballet's "white" scenes call to mind the desolate frontiers of Russia's northernmost climes, known as Franz Josef Land. Summer home to millions of migratory sea birds, Franz Josef Land is a laboratory for scientists who have been measuring the erosion of permafrost and the rise in sea levels, and observing the increasingly desperate behavior of the resident wildlife.
Against Kirkeby's rugged designs, choreographer Peter Martins' take on the classic Russian fairy tale evokes the struggle of environmentalists against the carbon-emitting forces of evil. Searching for meaning in life, the spoiled, bored Prince Siegfried is spurred to rescue a flock of exquisite, helpless creatures -- from which ordeal he emerges a sadder but nobler man. His nemesis, the evil sorcerer Von Rotbart, wields a gold cape that blazes under Mark Stanley's imaginative lighting and ensnares Odette as she bourrées mournfully offstage -- a visual metaphor for the polluters who decimate our fragile ecosytems.
Martins deploys his 28-strong posse of swans not in the austere military formations that we are used to seeing in most productions, but in intricate, constantly dissolving, M. C. Escher-like patterns that suggest the movement of tides, the melting of glaciers, the shifting of shorelines. The mute swan queen Odette telegraphs the plight of her flock through the urgent fluttering of her limbs and the eloquent stabbing of her pointes into the permafrost.
Though at one level a tragic love story, this Swan Lake downplays the romance. Despite the unusual amount of hugging that Martins has introduced into the classic pas de deux, and even some daring and untraditional caresses, there is little erotic tension between the prince and swan princess. This prince is on a mission. Odette serves as a catalyst for his evolution into an activist, but she is destined to remain a swan. In the brilliant final scene, she melts into a receding tide of swans, leaving the stricken Siegfried to take his fight to new lands.
Sara Mearns's white swan on opening night (reviewed here) drew the shape of sorrow in long serene phrases that conveyed the vulnerability of her entire flock - whereas Ashley Bouder on the following night gave a feistier, less lyrical reading. Bouder played tantalizingly with phrasing, occasionally rushing ahead of the music then holding a balance for a trifle longer than necessary.
Whereas Mearns seemed to smell trouble the moment she and Tyler Angle locked eyes, Bouder conveyed an all-American "can do" spirit when crossbow-wielding Andrew Veyette stumbled into the forest. If you were one of many lulled into a torpor by the non-events in the first half of Act I, you would have snapped to when Bouder alighted onstage. And even if you had never seen a ballet before Wednesday evening, you would have instantly comprehended her urgent plea to Veyette to get his entourage of hunters to stand down. Her battalion of swans spools and unspools in their heart-stopping series of arabesque hops, their tutus swirling like clouds through which Bouder swoops like a fighter jet, smoke trailing from her rapid-fire passés relevés. It was only when the monstrous Von Rotbart materialized to whisk her away that Bouder radiated angst.
As the black swan, Mearns smolders. Bouder ignites. She does not make the luxurious shapes that Mearns makes -- notably in back bends and renversés -- but she accelerates from zero to sixty faster than any other ballerina on the planet, keeps audiences on the edge of their seats with her feats of balance and daring, and shoots deadly laser beams from her eyes. After she has seduced the hapless prince into believing she is Odette, and gets him to swear his undying love for her, she reveals her cruel deception with savage glee. It is a wonder the courtiers don't all have heart attacks on the spot. The prince stumbles offstage in a panic and the Queen Mother goes into hysterics -- but the rest of the bystanders barely react. Conspiracy theorists should look into this.
Bouder's support team overall turned in an uneven performance.
Veyette's ardor was refreshing after the calm efficiency of Angle the previous night.
Troy Schumacher in the thankless role of Court Jester visibly ran out of steam in several of his manic variations.
Four Little Swans Jacqueline Bologna, Baily Jones, Alexa Maxwell and Claire Von Enck zoomed around the stage like the Blue Angels.
The six elegant princesses vying for Prince Siegfried's attention pranced vivaciously. But the zippy tempi (the default throughout this production, Tchaikovsky no doubt spinning in his grave) had them barreling on and off the red carpet before we could even find out who they were wearing.
Act II divertissements were danced with noticeable caution on Wednesday night -- with the exception of Devin Alberda, who conquered the Neapolitan Dance with his quicksilver footwork and stylish brio, and Ashly Isaacs and Taylor Stanley, who took the Russian Dance to sensual new heights. The choreography for Isaacs periodically echoes that for Odette -- the floating split lifts, for example -- in which she radiated a similar fusion of steely power and vulnerability (albeit it in feathers, sparkly bikini top and chiffon harem pants -- so typical of ballet's blithe disregard for ethnic verisimilitude.) The entire array of witty, well-crafted "national" dances, in fact, can be seen as Prince Siegfried's quixotic dreams of whisking the spellbound swan queen off to foreign lands.
The night ultimately belonged to Bouder, for the majesty of her Odette and the malign power of her Odile. And to the brigade of bewitched swan maidens who incarnate the devastating effects of climate change on the stage of the theatre formerly and forever known as the New York State Theater.
REAL LIFE. REAL NEWS. REAL VOICES.
Help us tell more of the stories that matter from voices that too often remain unheard.