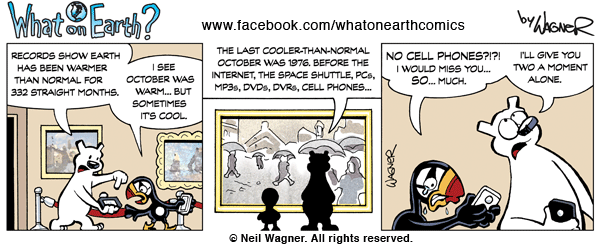 Global warming is real. Statistics unequivocally prove Mother Earth is on a hot streak. Deal with it.
Have doubts? Join me for What on Earth Descriptive Analogy Time (WoeDAT!) Imagine you're a sports fan whose favorite team's record has been above .500 for 332 straight months. Impressive, right?
That's exactly the kind of performance we've seen from Earth's global temperature. That means today's 27-year-olds have lived their entire lives on a planet that is warmer than the 20th century average. That includes Lady Gaga. Maybe the heat is what drove her to wear that meat dress.
The last month with a below-average temperature on Earth was February, 1985. 1985! That was the month before Amadeus won the Best Picture Oscar and the year Tetris made its name. The Macintosh computer was only one year old.
WoeDat! Part 2! Let's say you like your favorite daily news source because it has always provided a good balance of information about both national and international affairs. Except that this year it has devoted 1200 times more space to national than international. Quite a disappointment. Similarly, the first half of this year saw a 12-to-1 ratio of record high temperatures to record lows.
Denying overwhelming statistics is not a good practice... unless, of course, you prefer decades of excessively warm weather, a dearth of seasonal cold, and generations of adults who will never know there ever was seasonal cold.
Calling all HuffPost superfans!
Sign up for membership to become a founding member and help shape HuffPost's next chapter