McDonald's has discovered sriracha. And it likes it.
In West Coast markets where it is testing the Signature Crafted Recipes customization platform, the "Signature Sriracha" combination of toppings--which includes a mix of Big Mac sauce and sriracha--appears to be the clear winner over the Pico Guacamole, Maple Bacon Dijon, Deluxe or Sweet BBQ Bacon toppings bundles it has tried.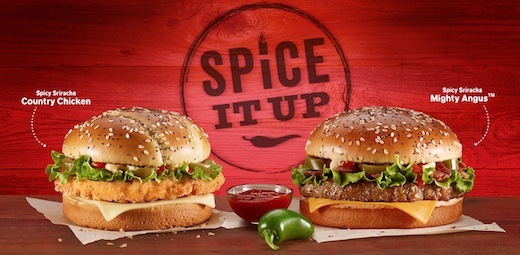 Now, in Canada, McDonald's has introduced beef and chicken limited-time burgers with sriracha sauce. The Spicy Sriracha Mighty Angus burger is a 100% Canadian Angus beef patty topped with hickory-smoked bacon pieces, lettuce, processed Cheddar cheese, sliced jalapeňos, sriracha sauce and an applewood-smoke seasoned sauce on a sesame-and-poppy-seed bun. The Toronto location I checked with has it priced at $6.50 CAN.
The companion is the Spicy Sriracha Country Chicken sandwich, with a seasoned Canadian chicken breast topped with lettuce and white processed Cheddar cheese, sliced jalapenos, sriracha sauce and applewood-smoke seasoned sauce served on the same sesame-and-poppy-seed-glazed bun. It's priced at $6.75 CAN.
There's another beef/chicken tandem at an overseas McDonald's that's interesting: In Italy, the retro 1955 Burger is back on the menu. The date is a salute to the year Ray Kroc opened his first McDonald's and the burger has been popping up as an LTO on menus outside the U.S. since it first appeared in Germany in 2010.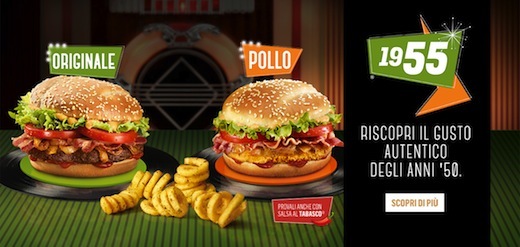 But this time the 1955 Burger--with its grilled onion and special sauce--has a 1955 Chicken sandwich with it. As far as my memory goes, that's a first. But wait; there's more: the Italian promotion also adds a "Piccante Con Tabasco" 1995 beef burger and a "Pollo Con Tabasco." McDonald's likes the heat.
There's more chicken madness from Burger King, too. It started with Chicken Fries and then gave us Fiery Chicken Fries, Buffalo Chicken Fries and Jalapeňo Chicken Fries. The latest was Chicken Fries Rings.
What's next? The GrubGrade site informs us that Burger King is morphing its Chicken Fries and its Grilled Dogs to produce... wait for it... the Chicken Fries Dog. GrubGrade's wrap-up: "Priced at $2.29, the Chicken Fries Dog features an oversized Chicken Fry in a hot dog bun and topped with BBQ sauce. So basically it's a chicken sandwich with a new shape." It was spotted in Irondequoit, N.Y.
Meanwhile, White Castle, which already had chicken rings, has also stepped up. Its new item is the Chicken Pretzel Ring. That's a chicken ring in a pretzel coating, of course.