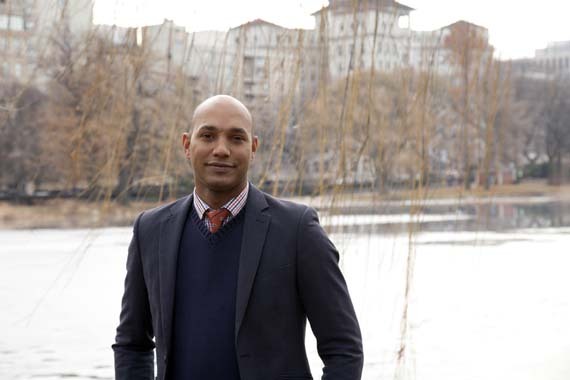 Edwin Zambrano-Acosta, photo courtesy of Julie Hassett-Sutton/Frantic Studio via Global Kids
When I was 14, I moved to Queens, NY from Venezuela with my mother and older sister. It turned out my local high school was not the best. It was dangerous and there were about five thousand students. After my first semester, I decided on my own to switch schools, partly because I didn't feel safe. I don't recall my parents being together at that time. My mom remarried and had her own family. My dad remarried and had his own family, so I learned to rely on myself.
I was always hungry to learn more. I felt if I didn't push myself to the limit, I would not get to the places I needed to be. I ended up at the International High School in Queens.
Global Kids had an after-school program there. Then I started going to the Global Kids offices. It was always a blessing. Being someone who spoke with a heavy accent was not an issue. Being someone who had different ideas was not an issue. Coming from a third world country was not an issue. They embraced you as family, the family I didn't have growing up, the family that I was wanting since I was a child.
In high school, I did extremely well. When I was ready to apply to college, my guidance counselor told me that because I was undocumented and wouldn't get financial assistance, I should concentrate only on community colleges. Being a Global Kid kicked in and I thought, "Why should I? I deserve an opportunity to go to a four-year school, or at least try." And so I applied to a lot of schools.
Every week my guidance counselor was getting acceptance letters for me. Unfortunately, most of the schools didn't offer much money. When I was ready to give up, I got a letter from Ramapo College. They gave me a full scholarship because I was a Global Kids member. I felt for the first time that somebody disregarded my status and saw me for who I was. They assumed that since I was in Global Kids, I would take a leadership role on campus. I became president of the Latino organization, president of the culture club and vice president of my class council.
Now I'm a case manager at a New York City hospital and I have my green card. I work mostly with the low-income immigrant community. When I tell a patient, "You don't qualify for insurance," I also say, "Let's find a doctor who can charge you a low cost, let's try to find other options."
I always say Global Kids was the mother I didn't have. It was the mentor that I was searching for and it gave me the opportunity to get an education.
Popular in the Community