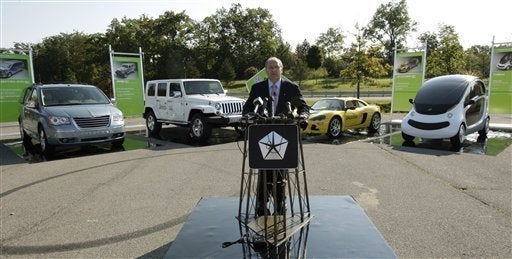 Back in March, Chrysler Chairman and CEO Robert Nardelli delivered the keynote address at the New York Auto Show (I was there). At the time, Chrysler was in the midst of rolling out several revamped muscle cars from the brand's storied past: the Dodge Challenger and the Dodge Charger. Not exactly vehicles designed to inspire a sustainable tomorrow.
Of course, according to Nardelli, Chrysler's future wasn't all about these isolated, flashy products--it was about a new era of what he called "globality" for the automaker. By which he presumably meant some kind of vaguely internationalized role for the number three U.S. car company. Internationalizing survival strategies were hot at the time; broadening overseas markets was seen as a way to solve the problem of a constricting North American market.
Fast forward to last month, when Nardelli informed Chrysler employees that "[t]hese are truly unimaginable times for our industry." Globality, meet the unimaginable. In fact, meet the unthinkable: along with General Motors and Ford, Chrysler is in extremely dire straits. They have now trekked to Washington several times, first in typical carbon-spewing CEO style, in private jets, then more contritely, in a small fleet of hybrid vehicles. They have begged first for $25 billion, and later for $34 billion. And with each new chapter of this saga, they have looked more and more ridiculous to the public.
Should any of them get to keep their jobs? This rescue deal needs to get done--Nardelli recently said Chrysler probably won't survive without it--but it seems pretty clear that Chrysler's owner, Cerberus Capital Management, wants out of the day-to-day management of a car company. Which could mean goodbye, Mr. Nardelli.
If we're lucky, we won't see his likes in the auto industry again. The troubling thing about Nardelli--who learned his trade under Jack Welch at General Electric, then went to do a mediocre job of running Home Depot before being tapped by private equity firm Cerberus to take over Chrysler--is that he seems to have no imagination whatsoever. His keynote in New York last March was a study in cynicism, and it presaged both a gloomy car show and a summer and fall that would see the entire American auto industry meltdown in spectacularly depressing fashion.
The leadership of the so-called Big Three--GM, Ford, and Chrysler--has never been less impressive. Alan Mulally, Ford's CEO, came from Boeing in 2006. His claim to compensation fame so far has been that he used nearly all of Ford's assets as collateral to overcome junk-grade bond ratings and borrow enough money to weather the current mega-downturn. The gamble may actually pay off, if Ford ends up as the U.S. carmaker that can lose money the longest.
General Motors' CEO, Rick Wagoner, fended off a boardroom putsch by investor Kirk Kerkorian in 2006 and has overseen several "restructurings" of the company, none of which has enabled GM to escape a $1 billion-plus per month cash burn, or a massive debt obligation. He has demonstrated a willingness to serve as Motown's point man in Washington, striving to broker bailout deals through the Federal Reserve and the Treasury, and now via Congress. But it's difficult to construe hat-in-hand pleading as true leadership.
It's utterly demoralizing to consider this hapless trio, particularly in the context of the American automobile industry, which although battered, remains the greatest manufacturing enterprise ever devised. At one time, it was also the most innovative and, yes, imaginative. Those who ran it made it their business to imagine the unimaginable, full-time. Creative destruction was their dreamscape. They certainly didn't proffer gibberish like "globality" as they watched competitors pursue the 21st-century, environmentally friendlier technologies that would ensure their survival. The best thing you can say about Nardelli's reign is that he didn't screw up the minivan.
The catastrophe if the U.S. car business is really pretty simple to explain. In the 1990s, when gas prices were low and consumers were willing to buy a lot of trucks and SUVs, Detroit could ignore its problems. The profits were there. Executives didn't need to think very far ahead. When consumer preferences changed in recent years, and the Big Three didn't have the vehicle lineups in place to meet them, and management didn't rush new product to market to hang onto market share. Instead, it cut costs and circled the wagons. Cost-cutting, as a solution to a problem rather than an ongoing exercise in efficiency, is the first refuge of the embattled contemporary manufacturing executive.
Unless you need to tow a boat, work in construction or on a farm, or urgently require seven-passenger seating, there aren't a lot of reasons to buy an American car right now (nevertheless, with oil dipping below $50 a barrel, if you want a truck, you should be able to get a loan to buy one). Detroit has been here before. Regrettably, unless the government helps to make its core products more appealing, this time it's probably here for good. The sad thing is that if the Big Three has thought in terms of real global trends--in oil prices, in changing attitudes about global warming--instead of dispensing smokescreens such as Nardelli's "globality," Detroit might be providing leadership rather than lurching toward its imminent demise.

Calling all HuffPost superfans!
Sign up for membership to become a founding member and help shape HuffPost's next chapter